Remote Keyless Entry (RKE)
This system allows you to lock or unlock the doors and liftgate, open the liftgate flip-up window, or activate the PANIC alarm from distances up to approximately 66 ft (20 m) using a hand-held Remote Keyless Entry (RKE) transmitter. The RKE transmitter does not need to be pointed at the vehicle to activate the system. However, the line of transmission must not be blocked with metal objects when using the RKE transmitter.
NOTE: Inserting the key into the ignition switch disables all buttons on the RKE transmitter.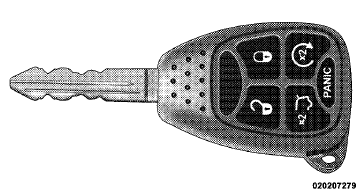 Vehicle Key
See also:
Electronic Brake Control System
Your vehicle is equipped with an advanced electronic brake control system that includes the Anti-Lock Brake System (ABS), Traction Control System (TCS), Brake Assist System (BAS), Electronic Rol ...
Glass Surfaces
All glass surfaces should be cleaned on a regular basis with MOPAR Glass Cleaner or any commercial household-type glass cleaner. Never use an abrasive type cleaner. Use caution when cleaning ins ...
Electronic Volume Control
The electronic volume control turns continuously (360 degrees) in either direction without stopping. Turning the ON/VOLUME control knob to the right increases the volume and to the left decreases ...