Adjustable Upper Shoulder Belt Anchorage
In the front seating positions, the shoulder belt can be adjusted upward or downward to position the belt away from your neck. Press the release button to release the anchorage, and then move it up or down to the position that fits you best.
NOTE: The adjustable upper shoulder belt anchorage is equipped with an Easy Up feature. This feature allows the shoulder belt anchorage to be adjusted in the upward position without pressing the release button. To verify the shoulder belt anchorage is latched, pull downward on the shoulder belt anchorage until it is locked into position.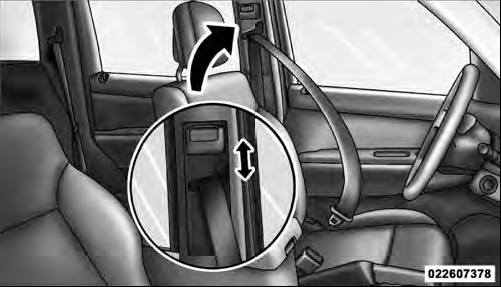 Adjusting Upper Shoulder Belt
As a guide, if you are shorter than average, you will prefer a lower position, and if you are taller than average, you will prefer a higher position.
See also:
Cooling System Pressure Cap
The cap must be fully tightened to prevent loss of coolant, and to ensure that coolant will return to the radiator from the coolant recovery bottle. The cap should be inspected and cleaned if the ...
After Driving Off-Road
Off-road operation puts more stress on your vehicle than does most on-road driving. After going off-road, it is always a good idea to check for damage. That way you can get any problems taken ca ...
Interior
The Liberty seats five occupants. It has a 65/35-split rear seat that can be folded down with one hand. The door panels consist of a series of arcs. Round-dialed instruments with black-on-beige gr ...