Supported MP3 File Formats
The radio will recognize only files with the *.MP3 extension as MP3 files. Non-MP3 files named with the *.MP3 extension may cause playback problems. The radio is designed to recognize the file as an invalid MP3 and will not play the file.
When using the MP3 encoder to compress audio data to an MP3 file, the bit rate and sampling frequencies in the following table are supported. In addition, variable bit rates (VBR) are also supported. The majority of MP3 files use a 44.1 kHz sampling rate and a 192, 160, 128, 96 or VBR bit rate.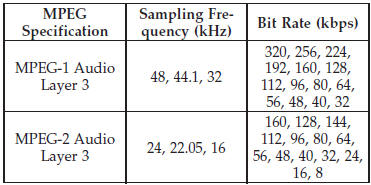 ID3 Tag information for artist, song title, and album title are supported for version 1 ID3 tags. ID3 version 2 is not supported by the radios.
Playlist files are not supported. MP3 Pro files are not supported.
See also:
Operating Tips
NOTE: Refer to the chart at the end of this section for suggested control settings for various weather conditions. ...
Electronic Speed Control
When engaged, the Electronic Speed Control takes over accelerator operations at speeds greater than 20 mph (32 km/h). The Electronic Speed Control buttons are located on the right side of the s ...
Radial-Ply Tires
WARNING! Combining radial ply tires with other types of tires on your vehicle will cause your vehicle to handle poorly. The instability could cause a collision. Always use radial tires in sets of ...