Rear Tail/Stop, Turn Signal, And Back-Up Lamp
1. Open the liftgate.
2. Remove the screws that fasten the taillamp housing to the vehicle.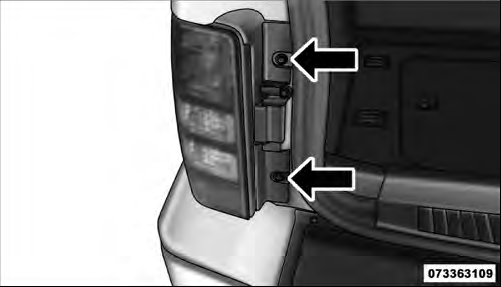 3. Pull the taillamp housing straight back to separate it from the vehicle.
4. Disconnect the electrical connector.
5. Remove the two screws that fasten the back plate to the taillamp housing.
6. Separate the back plate from the taillamp housing.
7. Pull the appropriate bulb(s) out of the back plate and insert the replacement bulb(s).
8. Install the back plate and screws into the taillamp housing.
9. Connect the electrical connector.
10. Install the taillamp housing and screws.
11. Close the liftgate.
See also:
Opening Power Shade — Manual Mode
To open the shade, press and hold the switch rearward to full open. Any release of the switch will stop the movement and the shade will remain in a partially opened condition until the switch is ...
Ignition Off Operation
The power sunroof switches remain active for up to approximately ten minutes after the ignition switch has been turned OFF. Opening either front door will cancel this feature. The time is progra ...
60/40 Split Folding Rear Seat With Fold-Flat Feature
To provide additional storage area, each rear seat can be folded flat. This allows for extended cargo space and still maintains some rear seating room. NOTE: Prior to folding the rear seat, it ma ...