Rollover Warning
Utility vehicles have a significantly higher rollover rate than other types of vehicles. This vehicle has a higher ground clearance and a higher center of gravity than many passenger cars. It is capable of performing better in a wide variety of off-road applications. Driven in an unsafe manner, all vehicles can go out of control. Because of the higher center of gravity, if this vehicle is out of control it may roll over when some other vehicles may not.
Do not attempt sharp turns, abrupt maneuvers, or other unsafe driving actions that can cause loss of vehicle control. Failure to operate this vehicle safely may result in a collision, rollover of the vehicle, and severe or fatal injury. Drive carefully.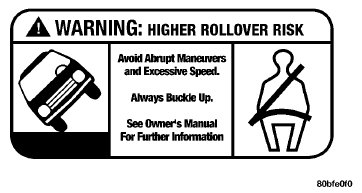 Rollover Warning Label
Failure to use the driver and passenger seat belts provided is a major cause of severe or fatal injury. In fact, the U.S. government notes that the universal use of existing seat belts could cut the highway death toll by 10,000 or more each year and could reduce disabling injuries by two million annually. In a rollover crash, an unbelted person is significantly more likely to die than a person wearing a seat belt. Always buckle up.
See also:
Pinch Protect Feature
This feature will detect an obstruction in the opening of the sunroof during Express Close operation. If an obstruction in the path of the sunroof is detected, the sunroof will automatically ret ...
High/Low Beam Switch
Push the multifunction lever toward the instrument panel to switch the headlights to high beam. Pulling the multifunction back toward the steering wheel will turn the low beams back on, or shut ...
Mode Control (Air Direction)
Push the mode control buttons to choose from several patterns of air distribution. Panel Air is directed through the outlets in the instrument panel. These outlets can be adjusted to direct ai ...