Key Fob
The Key Fob operates the ignition switch. Insert the square end of the key fob into the ignition switch located on the instrument panel and rotate to the desired position.
It also contains the Remote Keyless Entry (RKE) transmitter and an emergency key, which stores in the rear of the Key Fob.
The emergency key allows for entry into the vehicle on the driver's side should the battery in the vehicle or the RKE transmitter go dead. The emergency key is also for locking the glove box. You can keep the emergency key with you when valet parking.
NOTE: Entering a vehicle using the emergency key with the theft alarm armed, will result in the alarm sounding.
Insert the Key Fob (even if the Key Fob battery is dead) into the ignition switch to disarm theft alarm.
To remove the emergency key, slide the mechanical latch at the top of the Key Fob sideways with your thumb and then pull the key out with your other hand.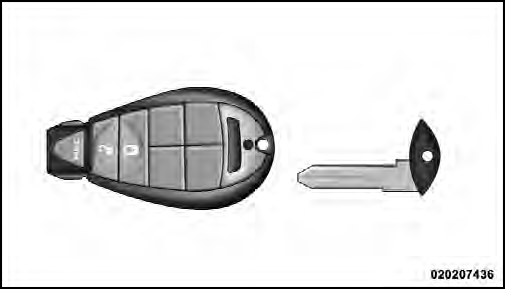 Emergency Key Removal
NOTE: You can insert the double-sided emergency key into the lock cylinders with either side up.
See also:
Simultaneous Brake And Throttle Operation
Many off-road driving conditions require the simultaneous use of the brake and throttle (two-footed driving). When climbing rocks, logs, or other stepped objects, using light brake pressure with ...
Electronic Vehicle Information Center (EVIC)
The Electronic Vehicle Information Center (EVIC) features a driver-interactive display that is located in the instrument cluster. Electronic Vehicle Information Center (EVIC) Display The EVIC ...
High/Low Beam Switch
Push the multifunction lever away from you to switch the headlights to high beam. Pull the lever toward you to switch the headlights back to low beam. ...