Remote Keyless Entry (RKE)
This system allows you to lock or unlock the doors and liftgate, or activate the panic alarm, from distances up to approximately 66 ft (20 m) using a hand-held Key Fob with RKE transmitter. The RKE transmitter does not need to be pointed at the vehicle to activate the system.
NOTE: Inserting the Key Fob with RKE transmitter into the ignition switch disables the system from responding to any button presses from that RKE transmitter. Driving at speeds 5 mph (8 km/h) and above disables the system from responding to all RKE transmitter buttons for all RKE transmitters.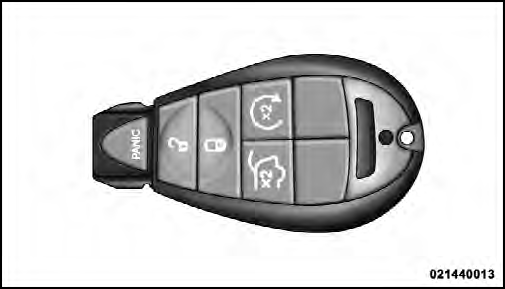 Key Fob With Five-Button RKE Transmitter
See also:
Transporting Pets
Air Bags deploying in the front seat could harm your pet. An unrestrained pet will be thrown about and possibly injured, or injure a passenger during panic braking or in an accident. Pets should ...
Knee Impact Bolsters
The Knee Impact Bolsters help protect the knees of the driver and the front passenger, and position front occupants for the best interaction with the Advanced Front Air Bag. Along with seat bel ...
Liberty in the Market
The Liberty is the right answer to a rarely asked question. While the market for street-friendly SUVs based on easy-riding, unibody designs is booming, the one for lower-mileage, rougher-riding of ...