Resetting Active Head Restraints (AHR)
If the Active Head Restraints are triggered in an accident, you must reset the head restraint on the driver's and front passenger seat. You can recognize when the Active Head Restraint has been triggered by the fact that they have moved forward (as shown in step three of the resetting procedure).
1. Grasp the deployed AHR from the rear seat.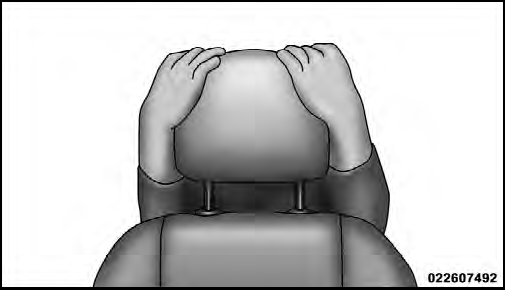 Hand Positioning Points On AHR
2. Position the hands on the top of the deployed AHR at a comfortable position.
3. Pull down then rearward towards the rear of the vehicle then down to engage the locking mechanism.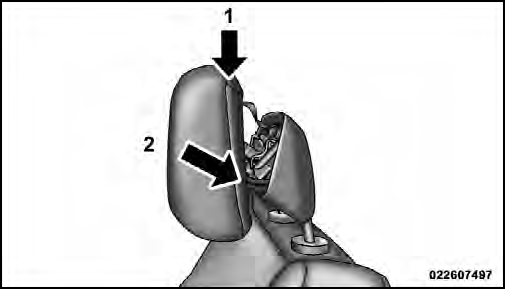 1 — Downward Movement
2 — Rearward Movement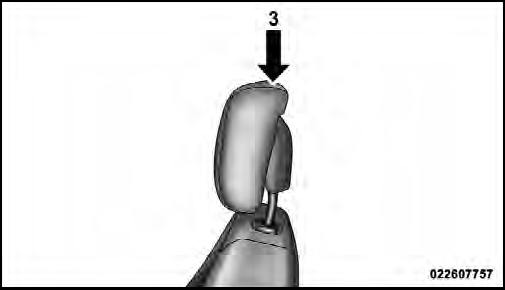 3 — Final Downward Movement To Engage Locking Mechanism
4. The AHR front soft foam and trim half should lock into the back decorative plastic half.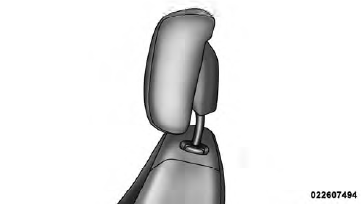 AHR In Reset Position
NOTE:
• If you have difficulties or problems resetting the Active Head Restraints, see an authorized dealer.
• For safety reasons, have the Active Head Restraints checked by a qualified specialist at an authorized dealer.
See also:
Safety
WARNING! • Improperly inflated tires are dangerous and can cause collisions. • Under-inflation increases tire flexing and can result in over-heating and tire failure. • Over-inflation reduces ...
2007 Jeep Compass review
After producing only one car on one shift for years, Chrysler Group promised a trio of machines from its Belvidere plant this year to keep the workers and company treasurer happy. First up was t ...
Service FCW Warning
If the system turns off, and the EVIC displays "ACC/ FCW Unavailable Service Radar Sensor", it indicates there is an internal system fault. Although the vehicle is still drivable under normal co ...