Resetting Active Head Restraints (AHR)
If the Active Head Restraints are triggered in an accident, you must reset the head restraint on the driver's and front passenger seat. You can recognize when the Active Head Restraint has been triggered by the fact that they have moved forward (as shown in step three of the resetting procedure).
1. Grasp the deployed AHR from the rear seat.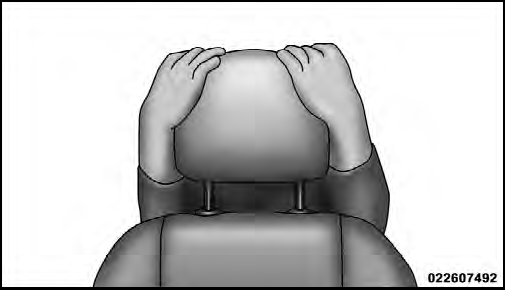 Hand Positioning Points On AHR
2. Position the hands on the top of the deployed AHR at a comfortable position.
3. Pull down then rearward towards the rear of the vehicle then down to engage the locking mechanism.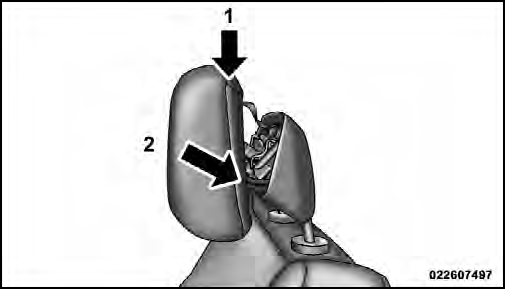 1 — Downward Movement
2 — Rearward Movement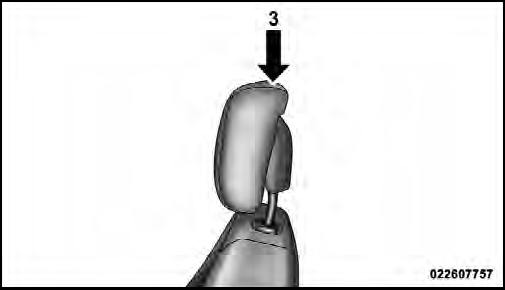 3 — Final Downward Movement To Engage Locking Mechanism
4. The AHR front soft foam and trim half should lock into the back decorative plastic half.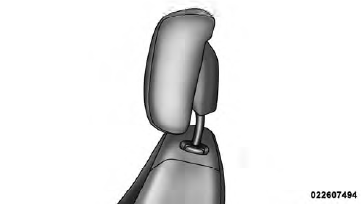 AHR In Reset Position
NOTE:
• If you have difficulties or problems resetting the Active Head Restraints, see an authorized dealer.
• For safety reasons, have the Active Head Restraints checked by a qualified specialist at an authorized dealer.
See also:
HSA Off
If you wish to turn off the HSA system, it can be done using the Customer Programmable Features in the Electronic Vehicle Information Center (EVIC). Refer to "Electronic Vehicle Information Cent ...
Forward Collision Warning — If Equipped
Forward Collision Warning (FCW) warns the driver of a potential collision with the vehicle in front of you and prompts the driver to take action in order to avoid the collision. FCW monitors th ...
Answer Or Reject An Incoming Call — No Call Currently In Progress
When you receive a call on your mobile phone, the Uconnect™ Phone will interrupt the vehicle audio system, if on, and will ask if you would like to answer the call. Press the button to accept ...