Resetting Active Head Restraints (AHR)
If the Active Head Restraints are triggered in an accident, you must reset the head restraint on the driver's and front passenger seat. You can recognize when the Active Head Restraint has been triggered by the fact that they have moved forward (as shown in step three of the resetting procedure).
1. Grasp the deployed AHR from the rear seat.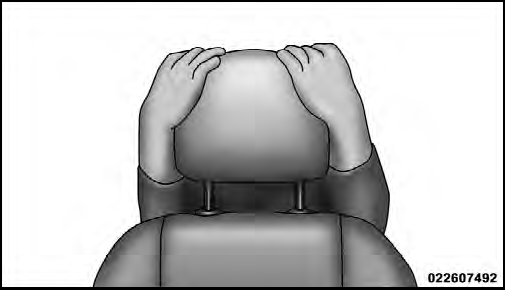 Hand Positioning Points On AHR
2. Position the hands on the top of the deployed AHR at a comfortable position.
3. Pull down then rearward towards the rear of the vehicle then down to engage the locking mechanism.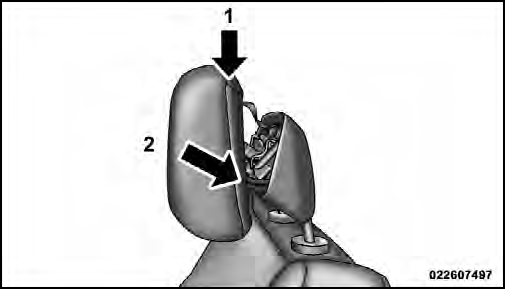 1 — Downward Movement
2 — Rearward Movement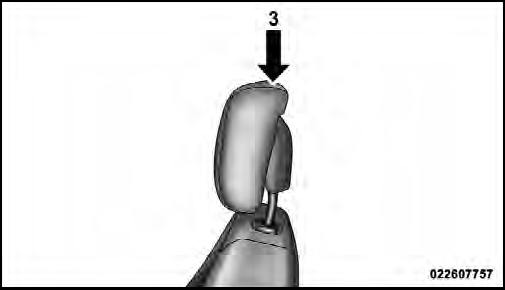 3 — Final Downward Movement To Engage Locking Mechanism
4. The AHR front soft foam and trim half should lock into the back decorative plastic half.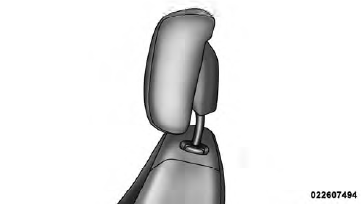 AHR In Reset Position
NOTE:
• If you have difficulties or problems resetting the Active Head Restraints, see an authorized dealer.
• For safety reasons, have the Active Head Restraints checked by a qualified specialist at an authorized dealer.
See also:
Towing
It may be offroadable, but the Patriot has the same shortcoming of most front-drive-based platforms: Its maximum towing capacity is a mere 2,000 pounds when equipped with the Trailer Tow package, ...
Doors
CAUTION! Careless handling and storage of the removable door panels may damage the seals, causing water to leak into the vehicle's interior. ...
Engine Oil Viscosity – 5.7L Engine
SAE 5W-20 engine oil is recommended for all operating temperatures. This engine oil improves low temperature starting and vehicle fuel economy. The engine oil filler cap also shows the recommende ...