Resetting Active Head Restraints (AHR)
If the Active Head Restraints are triggered in an accident, you must reset the head restraint on the driver's and front passenger seat. You can recognize when the Active Head Restraint has been triggered by the fact that they have moved forward (as shown in step three of the resetting procedure).
1. Grasp the deployed AHR from the rear seat.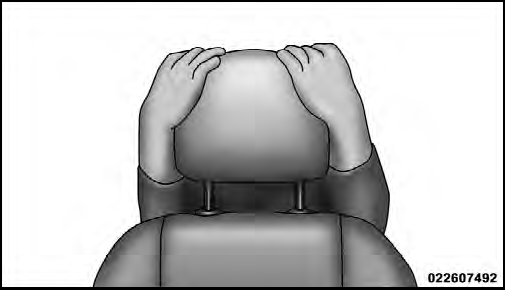 Hand Positioning Points On AHR
2. Position the hands on the top of the deployed AHR at a comfortable position.
3. Pull down then rearward towards the rear of the vehicle then down to engage the locking mechanism.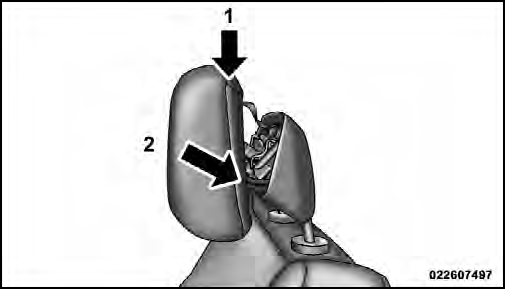 1 — Downward Movement
2 — Rearward Movement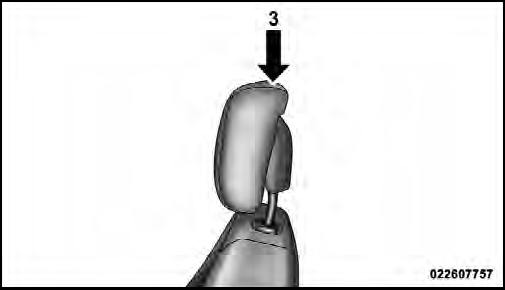 3 — Final Downward Movement To Engage Locking Mechanism
4. The AHR front soft foam and trim half should lock into the back decorative plastic half.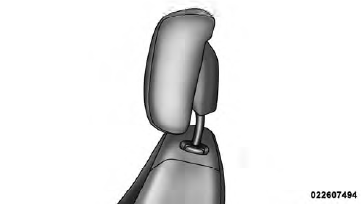 AHR In Reset Position
NOTE:
• If you have difficulties or problems resetting the Active Head Restraints, see an authorized dealer.
• For safety reasons, have the Active Head Restraints checked by a qualified specialist at an authorized dealer.
See also:
Safety
WARNING! • Improperly inflated tires are dangerous and can cause collisions. • Under-inflation increases tire flexing and can result in over-heating and tire failure. • Over-inflation reduces ...
Front Turn Signal
1. Open the hood. 2. Turn the turn signal bulb one–quarter turn counterclockwise to remove from housing. 3. Disconnect the electrical connector and replace the bulb. CAUTION! Do not touch the ...
Hill Descent Control (HDC) — Four-Wheel Drive Models With MP3023 Two-Speed Transfer Case Only
HDC maintains vehicle speed while descending hills during off-road driving situations and is available in 4WD LOW range only. To enable HDC, press the HDC switch or put the Selec-Terrain™ system ...