Inside Day/Night Mirror
A two-point pivot system allows for horizontal and vertical adjustment of the mirror. Adjust the mirror to center on the view through the rear window. The mirror should be adjusted while set in the day position (toward the windshield).
Headlight glare can be reduced by moving the small control lever under the mirror to the night position (lever flipped toward the rear of vehicle).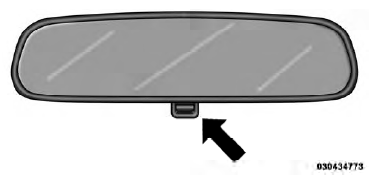 Adjusting Rearview Mirror
See also:
Special Additives
The manufacturer strongly recommends against the addition of any additives to the transmission. The only exception to this policy is the use of special dyes to aid in detecting fluid leaks. The ...
Tires
Examine tires for excessive tread wear and uneven wear patterns. Check for stones, nails, glass, or other objects lodged in the tread or sidewall. Inspect the tread for cuts and cracks. Inspect ...
Manufacturing
The all-new 2011 Jeep Grand Cherokee will be built at the 2.7-million-square-foot Jefferson North Assembly Plant (JNAP) in Detroit, which has been the site of Jeep Grand Cherokee production since ...