Windshield Washer Operation
To use the washer, push on the end of the lever (toward the steering wheel) and hold while spray is desired. If the lever is pushed while in the intermittent setting, the wipers will turn on and operate for several wipe cycles after the end of the lever is released, and then resume the intermittent interval previously selected.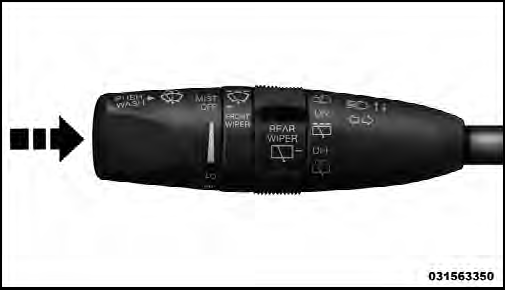 Windshield Washer Operation
If the end of the lever is pushed while the wipers are in the off position, the wipers will operate for several wipe cycles, then turn off.
WARNING!
Sudden loss of visibility through the windshield could lead to a collision. You might not see other vehicles or other obstacles. To avoid sudden icing of the windshield during freezing weather, warm the windshield with the defroster before and during windshield washer use.
See also:
Adaptive Cruise Control (ACC) Menu
The EVIC displays the current ACC system settings. The EVIC is located in the upper part of the instrument cluster between the speedometer and the tachometer. The information it displays depends ...
RW/FF
Pressing the RW (Rewind) or FF (Fast Forward) buttons causes the tuner to search for the next frequency in the direction of the arrows. This feature operates in either AM or FM frequencies. ...
Classic Exterior Design
Every surface of the all-new Jeep Grand Cherokee is new and treated for aerodynamics. This improves fuel efficiency and puts more fluidity into the design while delivering a 7- percent improvement ...