Mist
Use the Mist feature when weather conditions make occasional usage of the wipers necessary. Rotate the end of the lever downward to the Mist position and release for a single wiping cycle.
NOTE: The mist feature does not activate the washer pump; therefore, no washer fluid will be sprayed on the windshield. The wash function must be used in order to spray the windshield with washer fluid.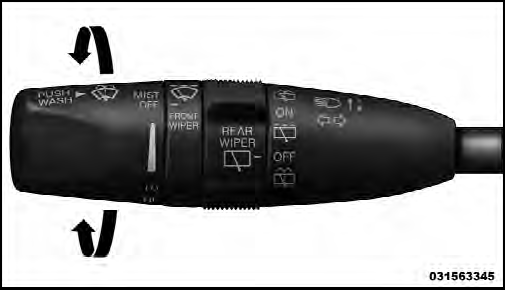 Mist Control
See also:
Snow Plow
Snow plows, winches, and other aftermarket equipment should not be added to the front end of your vehicle. The airbag crash sensors may be affected by the change in the front end structure. The ...
Anti-Lock Brake System (ABS)
This system aids the driver in maintaining vehicle control under adverse braking conditions. The system controls hydraulic brake pressure to prevent wheel lock-up to help avoid skidding on slipp ...
Trailer Towing
In this section, you will find safety tips and information on limits to the type of towing you can reasonably do with your vehicle. Before towing a trailer, carefully review this information to ...