Rollover Warning
Utility vehicles have a significantly higher rollover rate than other types of vehicles. This vehicle has a higher ground clearance and a higher center of gravity than many passenger cars. It is capable of performing better in a wide variety of off-road applications. Driven in an unsafe manner, all vehicles can go out of control. Because of the higher center of gravity and the narrower track, if this vehicle is out of control it may roll over when some other vehicles may not.
Do not attempt sharp turns, abrupt maneuvers, or other unsafe driving actions that can cause loss of vehicle control. Failure to operate this vehicle safely may result in a collision, rollover of the vehicle, and severe or fatal injury. Drive carefully.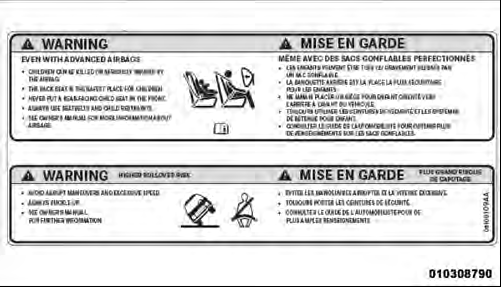 Rollover Warning Label
Failure to use the driver and passenger seat belts provided is a major cause of severe or fatal injury. In a rollover crash, an unbelted person is significantly more likely to die than a person wearing a seat belt. Always buckle up.
See also:
Ignition Key Removal
Automatic Transmission Place the shift lever in PARK. Turn the key to the ACC position and then push the key and cylinder inward slightly and rotate the key to the LOCK position. Then remove th ...
Going & Stopping
The Liberty may have gotten all-new sheet metal and a different interior, but its engine is exactly the same. The 210-horsepower V-6 is completely adequate, especially at highway cruising speeds. ...
RW/FF
Press and hold the FF (Fast Forward) button and the CD player will begin to fast forward until FF is released, or RW or another CD button is pressed. The RW (Reverse) button works in a similar man ...