Rear Door Removal (Four-Door Models)
WARNING!
Do not drive your vehicle on public roads with the doors removed as you will lose the protection that they can provide. This procedure is furnished for use during off-road operation only.
1. Roll down the glass window to prevent any damage.
2. Remove the hinge pin screws from the upper and lower outside hinges (using a #T50 Torx head driver).
NOTE: The hinge pin screws and nuts can be stowed in the rear cargo tray located under the rear loadfloor.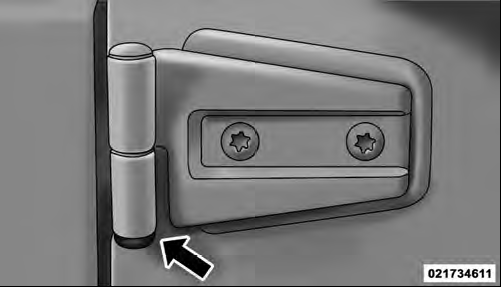 Hinge Pin Screw
3. Slide the front seat(s) fully forward.
4. Remove the trim access door from the bottom of the B-pillar.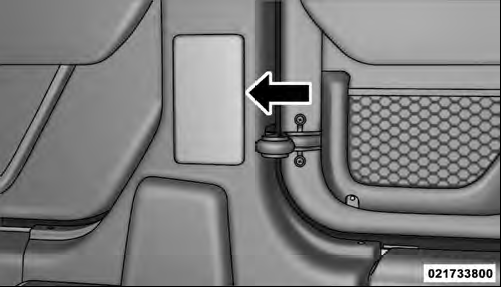 Trim Access Door
5. Unplug the wiring harness connector.
NOTE: If the red latch on the connector is locked, push the red latch to the right until you can only see the latch on one end (right) of the connector. This will unlock the connector tab, allowing the tab to be pressed down and enabling the harness to be disconnected.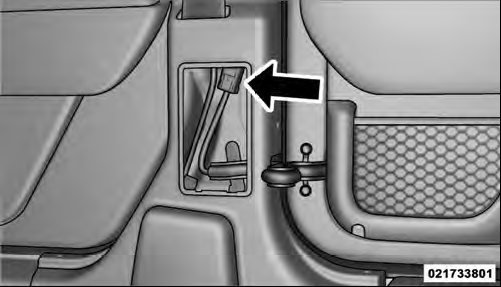 Red Connector Latch
6. Unhook the door strap from the body hook.
7. With the door open, lift the door to clear the hinge pins from their hinges and remove the door.
NOTE: Doors are heavy; use caution when removing them.
To reinstall the door(s), perform the previous steps in the opposite order.
See also:
Operating Instructions — Radio Mode
NOTE: The ignition switch must be in the ON or ACC position to operate the radio. ...
Adding Washer Fluid
The fluid reservoir for the windshield washers and the rear window washer (if equipped) is shared. The fluid reservoir is located in the engine compartment. Be sure to check the fluid level at reg ...
Snow
In heavy snow or for additional control and traction at slower speeds, shift the transmission into a low gear and the transfer case into 4L (Low) if necessary. Do not shift to a lower gear than ne ...