Intermittent Wiper System
Use the intermittent wiper when weather conditions make a single wiping cycle, with a variable pause between cycles, desirable. Rotate the end of the lever to the first detent position for one of five intermittent settings.
The delay cycle can be set anywhere between 1 to 18 seconds.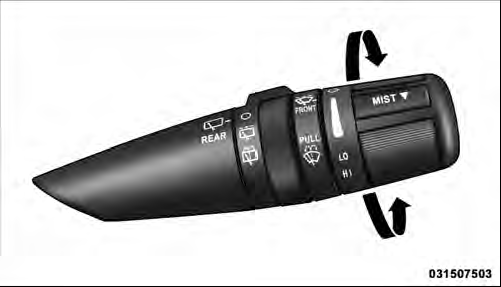 Front Wiper Control
NOTE: The wiper delay times depend on vehicle speed.
If the vehicle is moving less than 10 mph (16 km/h), delay times will be doubled.
See also:
Compass And Trip Computer — If Equipped
The Compass/Trip Computer features a driverinteractive display (displays information on outside temperature, compass direction, and trip information). It is located on the lower left part of the c ...
Air Conditioner Maintenance
For best possible performance, your air conditioner should be checked and serviced by an authorized dealer at the start of each warm season. This service should include cleaning of the condenser ...
MMT In Gasoline
MMT is a manganese containing metallic additive that is blended into some gasoline to increase the octane number. Gasoline blended with MMT offers no performance advantage beyond gasoline of the ...