Rear Storage Compartment
The rear cargo area storage compartment cover is held by a spring-loaded latch. In order to remove the rear storage compartment cover, use the following procedure:
NOTE: The rear storage compartment latch should not be used as cargo tie-down.
1. Flip up the pull loop so it is perpendicular (straight up) to the top surface of the tray.
2. Pull up on the loop and twist it 90 degrees, so it is parallel to the slotted hole in the tray.
3. Open the rear compartment cover.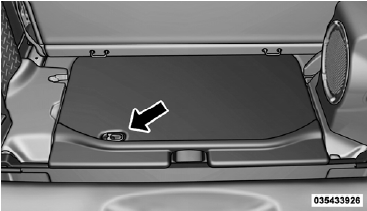 Rear Storage Cover
See also:
Glass Surfaces
All glass surfaces should be cleaned on a regular basis with MOPAR Glass Cleaner or any commercial household-type glass cleaner. Never use an abrasive type cleaner. Use caution when cleaning the ...
Manual Front Seat Adjustments
For models equipped with manual seats, the driver and passenger seats can be adjusted forward or rearward by using a bar by the front of the seat cushion, near the floor Manual Seat Adjustment ...
Vacation Storage
Anytime you store your vehicle, or keep it out of service (i.e., vacation) for two weeks or more, run the air conditioning system at idle for about five minutes in the fresh air and high blower se ...