Door Frame Removal
1. Unscrew and remove the door frame attachment knobs (two per door).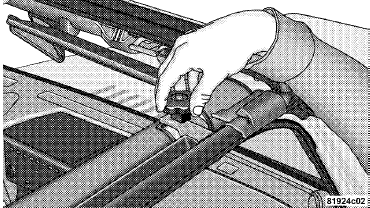 WARNING!
Use both hands to remove the door frames. The door frames will fold and could cause injury if both hands are not used.
2. Place one hand on the upper rear and one hand on the front of the door frame.
3. Pull the frame toward you with your rearward hand to remove the frame from the vehicle.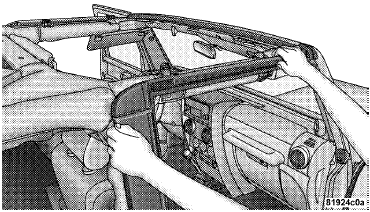 4. Screw the knobs back into the door frame and fold for storage. Store in a secure location.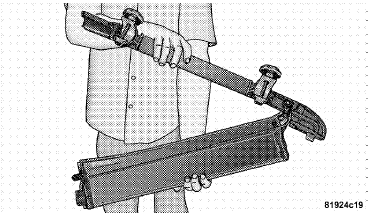 WARNING!
Never store the door frames in your vehicle. In an event of an accident, a loose door frame many cause personal injury. If removed, always store the door frames outside of the vehicle.
See also:
To Turn Off Flash Lights With Lock
This feature will cause the turn signal lights to flash when the doors are locked or unlocked with the RKE transmitter. This feature can be turned on or turned off. To change the current setting, p ...
Key-Off Power Delay
When this feature is selected, the power window switches, radio, hands–free system (if equipped), DVD video system (if equipped), power sunroof (if equipped), and power outlets will remain act ...
Removing ACC Sensor For Off-Roading
NOTE: When off-roading, it may be advisable to remove the ACC sensor. The sensor is located behind the front lower grille in the center of the vehicle. After removing the lower fascia, you may r ...