Supported MP3 File Formats
The radio will recognize only files with the *.MP3 extension as MP3 files. Non-MP3 files named with the *.MP3 extension may cause playback problems. The radio is designed to recognize the file as an invalid MP3 and will not play the file.
When using the MP3 encoder to compress audio data to an MP3 file, the bit rate and sampling frequencies in the following table are supported. In addition, variable bit rates (VBR) are also supported. The majority of MP3 files use a 44.1 kHz sampling rate and a 192, 160, 128, 96 or VBR bit rate.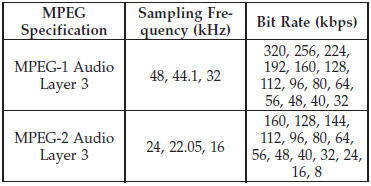 ID3 Tag information for artist, song title, and album title are supported for version 1 ID3 tags. ID3 version 2 is not supported by the radios.
Playlist files are not supported. MP3 Pro files are not supported.
See also:
Children Too Large For Booster Seats
Children who are large enough to wear the shoulder belt comfortably, and whose legs are long enough to bend over the front of the seat when their back is against the seat back, should use the la ...
Automatic Operation
The Automatic Temperature Control system automatically maintains the climate in the cabin of the vehicle at the comfort levels desired by the driver and passenger. Operation of the system is quite ...
Activating Adaptive Cruise Control (ACC)
You can only activate ACC if the vehicle speed is above 20 mph (32 km/h). When the system is turned on and in the READY state, the Electronic Vehicle Information Center (EVIC) displays "Adapt ...