Steering Wheel Audio Controls
The remote sound system controls are located on the rear surface of the steering wheel. Reach behind the wheel to access the switches.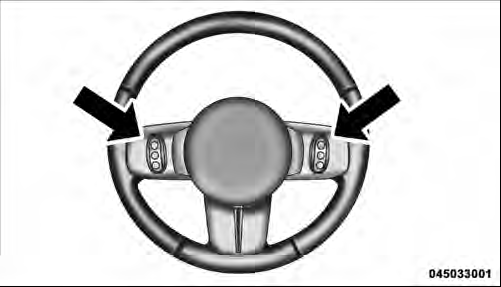 Remote Sound System Controls (Back View Of Steering Wheel)
The right-hand control is a rocker-type switch with a pushbutton in the center and controls the volume and mode of the sound system. Pressing the top of the rocker switch will increase the volume, and pressing the bottom of the rocker switch will decrease the volume.
Pressing the center button will make the radio switch between the various modes available (AM/FM/SAT/ CD/HDD/AUX/VES, etc.).
The left-hand control is a rocker-type switch with a pushbutton in the center. The function of the left-hand control is different depending on which mode you are in.
The following describes the left-hand control operation in each mode.
See also:
Traction Downhill
Shift the transmission into a low gear, and the transfer case into 4WD LOW range. Let the vehicle go slowly down the hill with all four wheels turning against engine compression drag. This will ...
Rear Swing Gate
The rear swing gate can be unlocked by using the key, Remote Keyless Entry (RKE) transmitter, or by activating the power door lock switches located on the front doors. To open the swing gate, pre ...
Department Of Transportation Uniform Tire Quality Grades
The following tire grading categories were established by the National Highway Traffic Safety Administration. The specific grade rating assigned by the tire's manufacturer in each category is sh ...