Shift Lever Override
If a malfunction occurs and the shift lever cannot be moved out of the PARK position, you can use the following procedure to temporarily move the shift lever:
1. Firmly apply the parking brake.
2. Turn the ignition to the ON/RUN position without starting the engine (engine Off).
3. Using a screwdriver or similar tool, carefully remove the shift lever override access cover, located on the PRNDL bezel.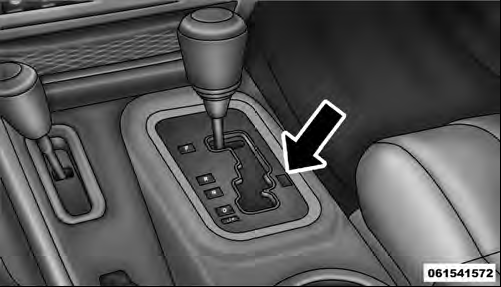 Shift Lever Override Access Cover
4. Press and maintain firm pressure on the brake pedal.
5. Using the screwdriver or similar tool, reach into the opening and press and hold the shift lever override.
6. Move the shift lever to NEUTRAL.
7. The vehicle may then be started in NEUTRAL.
8. Reinstall the shift lever override access cover.
See also:
To Vary The Speed Setting
When the Electronic Speed Control is set, you can increase speed by pushing the RES (+) button. If the button is continually pressed, the set speed will continue to increase until the button is re ...
Keyless Enter-N-Go (Passive Entry)
This feature allows you to lock and unlock the vehicle's door(s) without having to press the RKE transmitter lock or unlock buttons. To make your selection, press and release the SELECT button ...
2007 Jeep Compass review
After producing only one car on one shift for years, Chrysler Group promised a trio of machines from its Belvidere plant this year to keep the workers and company treasurer happy. First up was t ...