Shift Lever Override
If a malfunction occurs and the shift lever cannot be moved out of the PARK position, you can use the following procedure to temporarily move the shift lever:
1. Firmly apply the parking brake.
2. Turn the ignition to the ON/RUN position without starting the engine (engine Off).
3. Using a screwdriver or similar tool, carefully remove the shift lever override access cover, located on the PRNDL bezel.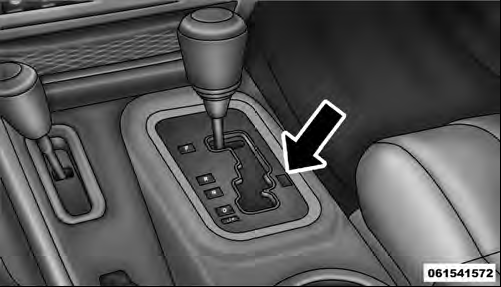 Shift Lever Override Access Cover
4. Press and maintain firm pressure on the brake pedal.
5. Using the screwdriver or similar tool, reach into the opening and press and hold the shift lever override.
6. Move the shift lever to NEUTRAL.
7. The vehicle may then be started in NEUTRAL.
8. Reinstall the shift lever override access cover.
See also:
Road Tire Installation
1. Mount the road tire on the axle. 2. Install the remaining lug nuts with the cone shaped end of the nut toward the wheel. Lightly tighten the lug nuts. WARNING! To avoid the risk of forcing ...
Trailer Towing Weights (Maximum Trailer Weight Ratings)
The following chart provides the maximum trailer weight ratings towable for your given drivetrain. ...
Occupant Restraint Controller (ORC)
The ORC is part of a Federally regulated safety system required for this vehicle. The ORC determines if deployment of the front and/or side air bags in a frontal or side collision is required. B ...