Shift Lever Override
If a malfunction occurs and the shift lever cannot be moved out of the PARK position, you can use the following procedure to temporarily move the shift lever:
1. Firmly apply the parking brake.
2. Turn the ignition to the ON/RUN position without starting the engine (engine Off).
3. Using a screwdriver or similar tool, carefully remove the shift lever override access cover, located on the PRNDL bezel.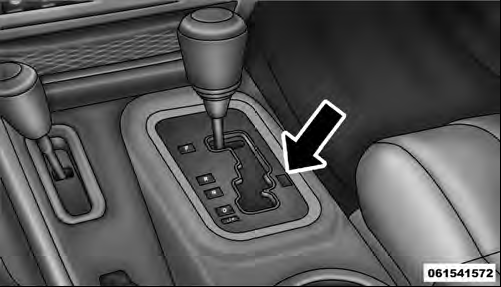 Shift Lever Override Access Cover
4. Press and maintain firm pressure on the brake pedal.
5. Using the screwdriver or similar tool, reach into the opening and press and hold the shift lever override.
6. Move the shift lever to NEUTRAL.
7. The vehicle may then be started in NEUTRAL.
8. Reinstall the shift lever override access cover.
See also:
Towing Without The Ignition Key Fob
Special care must be taken when the vehicle is towed with the ignition in the LOCK/OFF position. The only approved method of towing without the ignition key is with a flatbed truck. Proper towing ...
Passenger's Power Seat
Some models are equipped with a six-way power passenger seat. The power seat switch is located on the outboard side of the seat. The switch is used to control the movement of the seat and seat c ...
Gear Ranges
DO NOT race the engine when shifting from PARK or NEUTRAL into another gear range. PARK This range supplements the parking brake by locking the transmission. The engine can be started in this ra ...