Fluid Level Check
The fluid level should be to the bottom edge of the fill hole (A) when the vehicle is in a level position.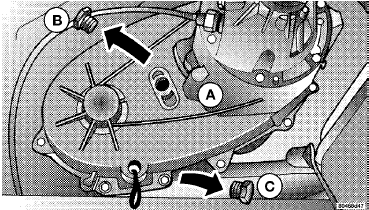 See also:
Two-Wheel Drive Models
The manufacturer recommends towing your vehicle with all four wheels OFF the ground using a flatbed. If flatbed equipment is not available, and the transmission is operable, the vehicle may be to ...
Driving Downhill
Before driving down a steep hill, you need to determine if it is too steep for a safe descent. What is the surface traction? Is the grade too steep to maintain a slow, controlled descent? Are ther ...
E-85 General Information
The information in this section is for Flexible Fuel vehicles only. These vehicles can be identified by a unique fuel filler door label that states Ethanol (E-85) or Unleaded Gasoline Only. This ...