Fluid Level Check
The fluid level should be to the bottom edge of the fill hole (A) when the vehicle is in a level position.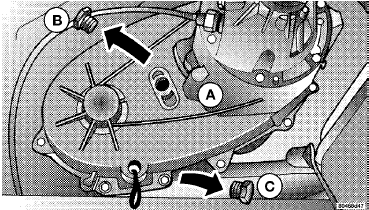 See also:
Vacation Storage
Anytime you store your vehicle, or keep it out of service (i.e. vacation) for two weeks or more, run the air conditioning system at idle for about five minutes in the fresh air and high blower s ...
Crossing Obstacles (Rocks And Other High Points)
While driving off-road, you will encounter many types of terrain. These varying types of terrain bring different types of obstacles. Before proceeding, review the path ahead to determine the corre ...
Electronic Brake Control System
Your vehicle is equipped with an advanced electronic brake control system that includes the Anti-Lock Brake System (ABS), Traction Control System (TCS), Brake Assist System (BAS), Electronic Rol ...