Trailer And Tongue Weight
Always load a trailer with 60% to 65% of the weight in the front of the trailer. This places 10% to 15% of the Gross Trailer Weight (GTW) on the tow hitch of your vehicle. Loads balanced over the wheels, or heavier in the rear, can cause the trailer to sway severely side-to-side which will cause loss of control of vehicle and trailer.
Failure to load trailers heavier in front is the cause of many trailer collisions. Never exceed the maximum tongue weight stamped on your trailer hitch.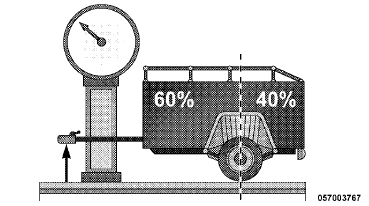 Consider the following items when computing the weight on the front/rear axles of the vehicle:
• The trailer tongue weight of the trailer.
• The weight of any other type of cargo or equipment put in or on your vehicle.
• The weight of the driver and all passengers.
NOTE: Remember that everything put into or on the trailer adds to the load on your vehicle. Also, additional factory-installed options, or authorized dealer-installed options, must be considered as part of the total load on your vehicle. Refer to "Tire Safety Information/Tire and Loading Information Placard" in "Starting and Operating" for further information.
See also:
Wireless Ignition Node (WIN)
The Wireless Ignition Node (WIN) operates similar to an ignition switch. It has four operating positions, three of which are detented and one spring-loaded. The detented positions are OFF, ACC, ...
Fold-Flat Front Passenger Seat — If Equipped
This feature allows the front passenger seatback to fold flat for extended cargo space. Some fold flat seats also have a hardback surface that you can use as a work surface when the seat is fold ...
Shift Positions
The transfer case switch is located on the center console next to the shift lever. Transfer Case Switch 2WD Rear Wheel Drive High Range - This range is for normal street and highway driving o ...