Liftgate Flipper Glass
The liftgate flipper glass is also unlocked when the liftgate is unlocked. To open the flipper glass, push up on the window switch located on the liftgate.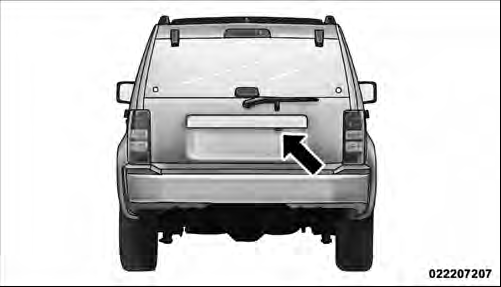 Liftgate Flipper Glass Release
NOTE: To prevent accidental damage the Liftgate Flipper Glass will not open if the liftgate is ajar. Make sure the liftgate is fully closed when attempting to open the Flipper Glass.
WARNING!
To avoid injury, stand back when opening. Glass may automatically rise.
NOTE: If a malfunction to the liftgate latch should occur, an emergency liftgate latch release can be used to open the liftgate. The emergency liftgate latch release can be accessed through a snap-in cover located on the liftgate trim panel.
WARNING!
Driving with the flipper glass open can allow poisonous exhaust gases into your vehicle. You and your passengers could be injured by these fumes. Keep the flipper glass closed when you are operating the vehicle.
See also:
Engine Coolant Level
The coolant bottle provides a quick visual method for determining that the coolant level is adequate. With the engine idling, and warm to normal operating temperature, the level of the engine cool ...
Base System
The Tire Pressure Monitor System (TPMS) uses wireless technology with wheel rim-mounted electronic sensors to monitor tire pressure levels. Sensors, mounted to each wheel as part of the valve st ...
MMT In Gasoline
MMT is a manganese-containing metallic additive that is blended into some gasoline to increase octane. Gasoline blended with MMT provides no performance advantage beyond gasoline of the same oct ...