Inside Day/Night Mirror
A two-point pivot system allows for horizontal and vertical mirror adjustment. Adjust the mirror to center on the view through the rear window.
Headlight glare can be reduced by moving the small control under the mirror to the night position (toward the rear of vehicle). The mirror should be adjusted while set in the day position (toward the windshield).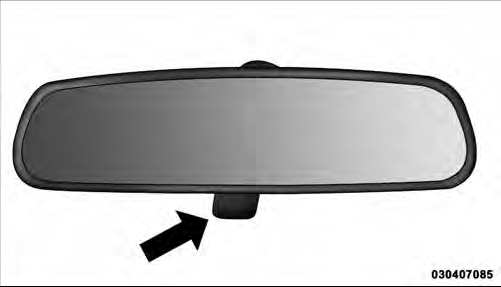 Adjusting Rearview Mirror
See also:
Auto Unlock On Exit
When ON is selected, all doors will unlock when the vehicle is stopped and the transmission is in the PARK or NEUTRAL position and the driver's door is opened. To make your selection, press an ...
Getting Started
• Screen located in the overhead console : Unfold the overhead LCD screen by pushing the button on the overhead console behind the screen. Overhead Video Screen • With the ignition switch ...
Media Center 130 (Sales Code RES)
NOTE: The radio sales code is located on the lower right side of the radio faceplate. Media Center 130 (RES) ...