Driver Memory Seat — If Equipped
This feature allows the driver to store up to two different memory profiles, for easy recall through a memory switch. Each memory profile contains desired position settings for the driver seat and side mirrors and a set of desired radio station presets.
The memory switch is located on the instrument panel to the left of the steering column. The switch contains a S (SET) button to activate the memory save function. It also contains a rocker switch labeled with the number (1) and the number (2). The rocker switch allows the driver to recall either of the two pre-programmed memory profiles by pressing the appropriate side of the switch.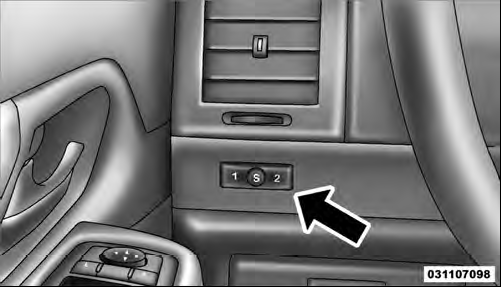 Driver Memory Switch
See also:
Transfer Case Position Indicator Lights
The four-wheel drive indicator lights (4WD, 4 LOW) are located in the instrument cluster. The NEUTRAL indicator light is located on the transfer case switch. If there is no indicator light on or ...
Transporting Pets
Air Bags deploying in the front seat could harm your pet. An unrestrained pet will be thrown about and possibly injured, or injure a passenger during panic braking or in an accident. Pets should b ...
Safety
One thing I really missed in the Liberty was a backup camera; it comes with an optional parking assist system, which includes a sonar-based warning system with audio and visual alerts. For a small ...