Compass Variance
Compass Variance is the difference between Magnetic North and Geographic North. To compensate for the differences, the variance should be set for the zone where the vehicle is driven, per the zone map. Once properly set, the compass will automatically compensate for the differences and provide the most accurate compass heading.
NOTE: Magnetic materials should be kept away from the top of the right rear quarter window. This is where the compass sensor is located.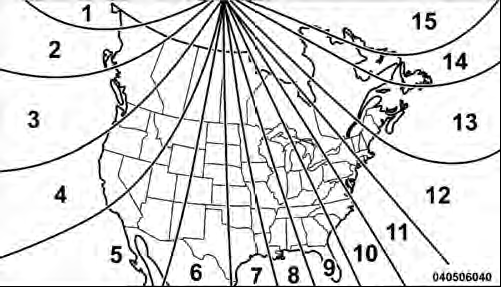 Compass Variance Map
To Change The Compass Variance:
1. Turn the ignition switch ON.
2. Press the MENU button until the Personal Settings (Customer-Programmable Features) menu displays in the EVIC.
3. Press the DOWN button until "Compass Variance" displays in the EVIC.
4. Press and release the SELECT button until the proper variance zone is selected according to the map.
NOTE: The Variance Values will wrap around from 15 back to 1. The Default Variance is Zone 8.
5. Press and release the COMPASS button to exit.
See also:
After Driving Off-Road
Off-road operation puts more stress on your vehicle than does most on-road driving. After going off-road, it is always a good idea to check for damage. That way you can get any problems taken ca ...
Air Bag Warning Light
You will want to have the air bags ready to inflate for your protection in a collision. The Air Bag Warning Light monitors the internal circuits and interconnecting wiring associated with air ba ...
Summer Operation
The engine cooling system in air-conditioned vehicles must be protected with a high-quality antifreeze coolant to provide proper corrosion protection and to protect against engine overheating. A s ...