Supported MP3/WMA File Formats
The radio will recognize only files with the *.MP3/WMA extension as MP3/WMA files. Non-MP3/WMA files named with the *.MP3/WMA extension may cause playback problems. The radio is designed to recognize the file as an invalid MP3/WMA and will not play the file.
When using the MP3/WMA encoder to compress audio data to an MP3/WMA file, the bit rate and sampling frequencies in the following table are supported. In addition, variable bit rates (VBR) are also supported. The majority of MP3/WMAfiles use a 44.1 kHz sampling rate and a 192, 160, 128, 96 or VBR bit rates.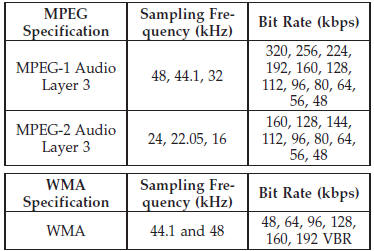 ID3 Tag information for artist, song title, and album title are supported for ID3 version 1 tags. ID3 version 2 is not supported by the radios.
Playlist files are not supported. MP3 Pro files are not supported.
See also:
Pair (Link) Uconnect™ Phone to a Mobile Phone
To begin using your Uconnect™ Phone, you must pair your compatible Bluetooth enabled mobile phone. To complete the pairing process, you will need to reference your mobile phone Owner's Manual ...
Active Head Restraints — Front Seats
Active Head Restraints are passive, deployable components, and vehicles with this equipment cannot be readily identified by any markings, only through visual inspection of the head restraint. Th ...
E-85 Usage In Non-Flex Fuel Vehicles
Non-FFV vehicles are compatible with gasoline containing 10% ethanol (E10). Gasoline with higher ethanol content may void the vehicle's warranty. If a Non-FFV vehicle is inadvertently fueled with ...