Supported MP3 File Formats
The radio will recognize only files with the *.MP3 extension as MP3 files. Non-MP3 files named with the *.MP3 extension may cause playback problems. The radio is designed to recognize the file as an invalid MP3 and will not play the file.
When using the MP3 encoder to compress audio data to an MP3 file, the bit rate and sampling frequencies in the following table are supported. In addition, variable bit rates (VBR) are also supported. The majority of MP3 files use a 44.1 kHz sampling rate and a 192, 160, 128, 96 or VBR bit rates.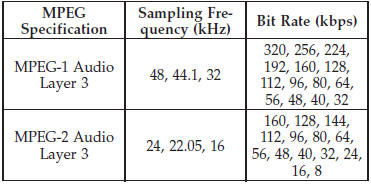 ID3 Tag information for artist, song title, and album title are supported for version 1 ID3 tags. ID3 version 2 is not supported by the radios.
Playlist files are not supported. MP3 Pro files are not supported.
See also:
Prepare For The Appointment
If you're having warranty work done, be sure to have the right papers with you. Take your warranty folder. All work to be performed may not be covered by the warranty. Discuss additional charg ...
Place/Retrieve A Call From Hold
To put a call on hold, press the button until you hear a single beep. This indicates that the call is on hold. To bring the call back from hold, press and hold the button until you hear a s ...
Tire Psi
Press and release the MENU button until Tire PSI is displayed. Tire pressure information is displayed as follows: • If tire pressure is OK for all tires, TIRE and a vehicle graphic are display ...