Supported MP3 File Formats
The radio will recognize only files with the *.MP3 extension as MP3 files. Non-MP3 files named with the *.MP3 extension may cause playback problems. The radio is designed to recognize the file as an invalid MP3 and will not play the file.
When using the MP3 encoder to compress audio data to an MP3 file, the bit rate and sampling frequencies in the following table are supported. In addition, variable bit rates (VBR) are also supported. The majority of MP3 files use a 44.1 kHz sampling rate and a 192, 160, 128, 96 or VBR bit rates.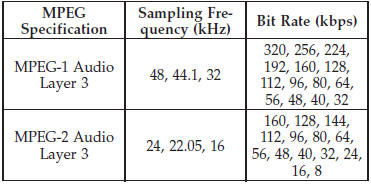 ID3 Tag information for artist, song title, and album title are supported for version 1 ID3 tags. ID3 version 2 is not supported by the radios.
Playlist files are not supported. MP3 Pro files are not supported.
See also:
Parksense Warning Display
The ParkSense Warning screen will only be displayed if Sound and Display is selected from the Customer- Programmable Features section of the Electronic Vehicle Information Center (EVIC). Refer t ...
Call Continuation
Call continuation is the progression of a phone call on the Uconnect™ Phone after the vehicle ignition key has been switched to OFF. Call continuation functionality available on the vehicle ca ...
Front Panel(s) Installation With Rear Hard Top Removed
1. Turn the left and right panels over and move the spacer block (located on the rear of the panel) upward 90 degrees. NOTE: The front panel(s) must be positioned properly to ensure sealing. Set ...