Four–Speed Automatic Transmission
The shift lever position display (located in the instrument panel cluster) indicates the transmission gear range. You must press the brake pedal to move the shift lever out of the PARK position (refer to "Brake/Transmission Shift Interlock System" in this section). To drive, move the shift lever from PARK or NEUTRAL to the DRIVE position.
The electronically-controlled transmission provides a precise shift schedule. The transmission electronics are self-calibrating; therefore, the first few shifts on a new vehicle may be somewhat abrupt. This is a normal condition, and precision shifts will develop within a few hundred miles (kilometers).
Shifting from DRIVE to PARK or REVERSE should be done only after the accelerator pedal is released and the vehicle is stopped. Be sure to keep your foot on the brake pedal when moving the shift lever between these gears.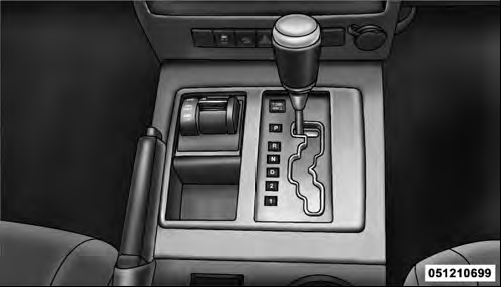 Shift Lever
See also:
Interior
As the Chrysler Group, which owns Jeep, grew quickly on past successes, many of the interiors of its new models suffered. Cheap, bulky plastic dismally makes up most of the Liberty cabin, as it do ...
Shifting Procedures
NOTE: If any of the requirements to select a new transfer case position have not been met, the transfer case will not shift, the indicator light for the previous position will remain on, and the ...
Headlamp
1. Open hood and support using prop rod. 2. Remove the front grille. Turn the retainers along the top 1/4 turn counterclockwise and remove. 3. Pull the bottom of the grille away starting at one si ...