Shift Positions
The transfer case switch is located on the center console next to the shift lever.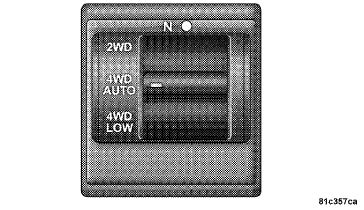 Transfer Case Switch
2WD
Rear Wheel Drive High Range - This range is for normal street and highway driving on dry hard-surfaced roads.
4WD Auto
Four-Wheel Drive Auto High Range – This active ondemand range makes available optimum traction for a wide range of conditions, while maximizing driver convenience.
This position is always in four-wheel drive mode, with a normal 42% front axle, 58% rear axle torque split. The system also anticipates and prevents slip by redirecting torque as necessary, up to 100% to the front or rear axle, if needed.
4WD Low
Four-Wheel Drive Low Range - This range is for low speed four-wheel drive. Locks the front driveshaft and rear driveshaft together forcing the front and rear wheels to rotate at the same speed. Additional traction and maximum pulling power for loose or slippery road surfaces only. Do not exceed 25 mph (40 km/h).
N
Neutral - This range disengages both the front driveshaft and rear driveshaft from the powertrain. To be used for flat towing behind another vehicle. Refer to "Recreational Towing" in "Starting and Operating" for further information.
See also:
Radial-Ply Tires
WARNING! Combining radial ply tires with other types of tires on your vehicle will cause your vehicle to handle poorly. The instability could cause a collision. Always use radial tires in sets ...
Other Language Setup
DVD Player Language Menu All of the Language settings have a special Other setting to accommodate languages other than Japanese or English. These languages are selected using a special fourdigit ...
CD Player
Pressing the top of the switch once will go to the next track on the CD. Pressing the bottom of the switch once will go to the beginning of the current track, or to the beginning of the previous t ...