Spare Tire Removal
Fit the jack handle extension over the drive nut located in the rear cargo area inside the vehicle. Use the lug wrench to rotate the nut counterclockwise until the spare is on the ground with enough slack in the cable to allow you to pull the tire out from under the vehicle.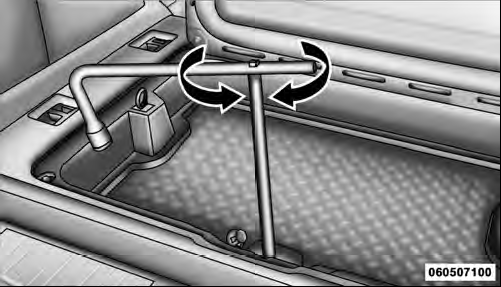 Lowering/Raising Spare Tire
CAUTION!
The winch mechanism is designed for use with the jack extension tube only. Use of an air wrench or other power tools is not recommended and they can damage the winch.
When the spare is clear, tilt the retainer at the end of the cable, and pull it through the center of the wheel.
NOTE: Refer to "Compact Spare Tire" under "Tires- General Information" in "Starting And Operating" for information about the compact spare tire, its use, and operation.
See also:
Lights-On Reminder
If the headlights or parking lights are on after the ignition is turned OFF, a chime will sound when the driver's door is opened. ...
Supported MP3 File Formats
The radio will recognize only files with the *.MP3 extension as MP3 files. Non-MP3 files named with the *.MP3 extension may cause playback problems. The radio is designed to recognize the file as ...
Vehicle Modifications/Alterations
WARNING! Any modifications or alterations to this vehicle could seriously affect its roadworthiness and safety and may lead to a accident resulting in serious injury or death. ...