Shift Lever Override
If a malfunction occurs and the shift lever cannot be moved out of the PARK position, you can use the following procedure to temporarily move the shift lever:
1. Firmly apply the parking brake.
2. Using a screwdriver or similar tool, carefully remove the shift lever override access cover, located on the PRNDL bezel.
3. Turn the ignition to the ON/RUN position without starting the engine (engine Off).
4. Press and maintain firm pressure on the brake pedal.
5. Using a screwdriver, reach into the opening and press and hold the shift override lever down.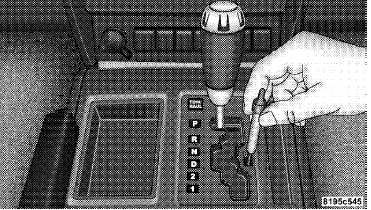 Shift Lever Override Access
6. Move the shift lever to the NEUTRAL position.
7. The vehicle may then be started in NEUTRAL.
8. Reinstall the shift lever override access cover.
See also:
Materials Added To Engine Oil
Do not add any supplemental additives, other than leak detection dyes, to your engine oil. Engine oil is an engineered product and its performance may be impaired by supplemental additives. ...
Parksense Rear Park Assist — If Equipped
The ParkSense Rear Park Assist system provides visual and audible indications of the distance between the rear fascia and a detected obstacle when backing up, e.g. during a parking maneuver. Refe ...
Opening Sunroof — Express
Press the switch rearward and release it within one-half second and the sunroof will open automatically from any position. The sunroof will open fully and stop automatically. This is called "Ex ...