Rear Tail/Stop, Turn Signal, And Back-Up Lamp
1. Open the liftgate.
2. Remove the screws that fasten the taillamp housing to the vehicle.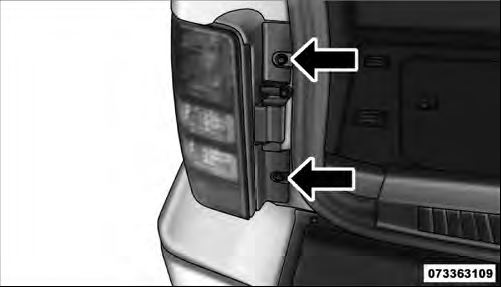 3. Pull the taillamp housing straight back to separate it from the vehicle.
4. Disconnect the electrical connector.
5. Remove the two screws that fasten the back plate to the taillamp housing.
6. Separate the back plate from the taillamp housing.
7. Pull the appropriate bulb(s) out of the back plate and insert the replacement bulb(s).
8. Install the back plate and screws into the taillamp housing.
9. Connect the electrical connector.
10. Install the taillamp housing and screws.
11. Close the liftgate.
See also:
Windshield Wipers And Washers
The windshield wiper/washer control lever is located on the right side of the steering column. The front wipers are operated by rotating a switch, located at the end of the lever. For information ...
Wind Buffeting
Wind buffeting can be described as the perception of pressure on the ears or a helicopter-type sound in the ears. Your vehicle may exhibit wind buffeting with the windows down, or the sunroof (i ...
Headlamp Off Delay
When this feature is selected, the driver can choose to have the headlights remain on for 0, 30, 60, or 90 seconds when exiting the vehicle. To make your selection, press and release the SELECT ...