Key Fob
The Key Fob operates the ignition switch. Insert the square end of the key fob into the ignition switch located on the instrument panel and rotate to the desired position.
It also contains the Remote Keyless Entry (RKE) transmitter and an emergency key, which stores in the rear of the Key Fob.
The emergency key allows for entry into the vehicle on the driver's side should the battery in the vehicle or the RKE transmitter go dead. The emergency key is also for locking the glove box. You can keep the emergency key with you when valet parking.
NOTE: Entering a vehicle using the emergency key with the theft alarm armed, will result in the alarm sounding.
Insert the Key Fob (even if the Key Fob battery is dead) into the ignition switch to disarm theft alarm.
To remove the emergency key, slide the mechanical latch at the top of the Key Fob sideways with your thumb and then pull the key out with your other hand.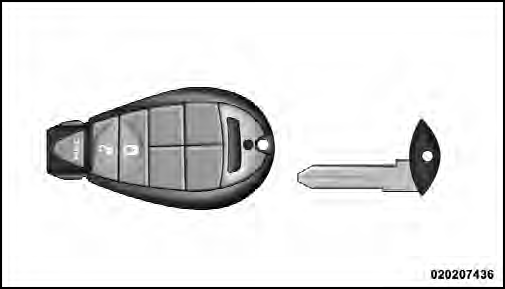 Emergency Key Removal
NOTE: You can insert the double-sided emergency key into the lock cylinders with either side up.
See also:
Prepare For The Appointment
If you're having warranty work done, be sure to have the right papers with you. Take your warranty folder. All work to be performed may not be covered by the warranty. Discuss additional charg ...
Economy
Improper inflation pressures can cause uneven wear patterns to develop across the tire tread. These abnormal wear patterns will reduce tread life resulting in a need for earlier tire replacement ...
Wiper Mode — If Equipped
When this feature is selected, the system will automatically activate the windshield wipers if it senses moisture on the windshield. To make your selection, press and release the SELECT button u ...