Door Locks
The power door locks can be manually locked from inside the vehicle by using the door lock knob. To lock each door, push the door lock knob on each door trim panel downward. To unlock the front doors, pull the inside door handle to the first detent. To unlock the rear doors, pull the door lock knob on the door trim panel upward. If the lock knob is down when the door is closed, the door will lock. Therefore, make sure the key is not inside the vehicle before closing the door.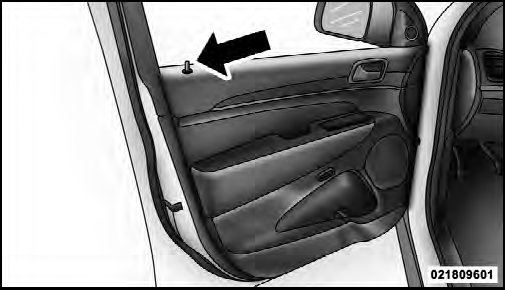 Manual Door Lock Knob
WARNING!
• For personal security and safety in the event of an accident, lock the vehicle doors when you drive, as well as when you park and leave the vehicle.
• When leaving the vehicle, always remove the key fob from the ignition and lock your vehicle.
• Never leave children alone in a vehicle, or with access to an unlocked vehicle.
• Allowing children to be in a vehicle unattended is dangerous for a number of reasons. A child or others could be seriously or fatally injured. Children should be warned not to touch the parking brake, brake pedal or the shift lever • Do not leave the key fob in or near the vehicle, and do not leave Keyless Enter-N-Go in the ACC or ON/RUN mode. A child could operate power windows, other controls, or move the vehicle.
See also:
Cleaning The Parksense System
Clean the ParkSense sensors with water, car wash soap and a soft cloth. Do not use rough or hard cloths. Do not scratch or poke the sensors. Otherwise, you could damage the sensors. ...
Power Door Locks
The power door lock switch is located on each front door panel. Press the switch to lock or unlock the doors. Power Door Lock Switch If the lock knob is down when the door is closed, the door ...
Recorded Discs
The VES™ DVD player will play CD-R and CD-RWdiscs recorded in CD-Audio or Video-CD format, or as a CD-ROM containing MP3 or WMA files. The player will also play DVD-Video content recorded to a ...