Child-Protection Door Lock System — Rear Doors
To provide a safer environment for small children riding in the rear seats, the rear doors are equipped with Child-Protection Door Lock system.
To Engage Or Disengage The Child-Protection Door Lock System
1. Open the rear door.
2. Insert the tip of the emergency key into the lock and rotate to the LOCK or UNLOCK position.
3. Repeat steps 1 and 2 for the opposite rear door.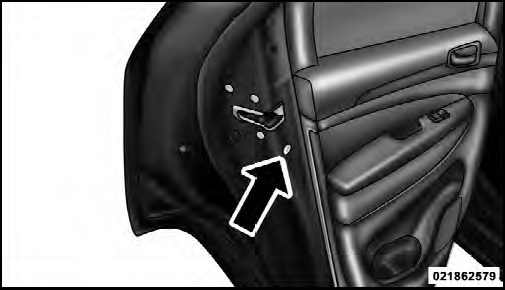 Child-Protection Door Lock Location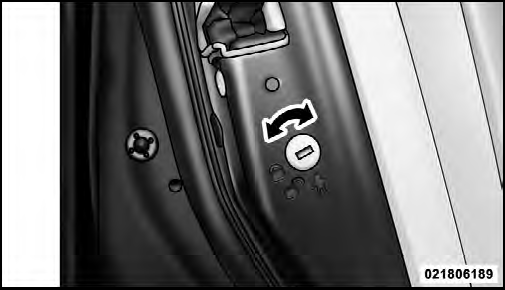 Child-Protection Door Lock Function
WARNING!
Avoid trapping anyone in a vehicle in a collision.
Remember that the rear doors can only be opened from the outside when the Child-Protection locks are engaged (locked).
NOTE: For emergency exit from the rear seats when the Child-Protection Door Lock System is engaged, manually raise the door lock knob to the unlocked position, roll down the window, and open the door using the outside door handle.
See also:
Display Units In
The EVIC can be changed between English and Metric units of measure. The units apply to the Outside Temperature, Average Fuel Economy, Distance to Empty, and Tire Pressure displays. To make your ...
Transfer Call To And From Mobile Phone
The Uconnect™ Phone allows ongoing calls to be transferred from your mobile phone to the Uconnect™ Phone without terminating the call. To transfer an ongoing call from your Uconnect™ Phone ...
RKE Linked To Memory
When this feature is selected, you can use your RKE transmitter to recall one of two pre-programmed memory profiles. Each memory profile contains desired position settings for the driver seat, s ...