How The Active Head Restraints (AHR) Work
The Occupant Restraint Controller (ORC) determines whether the severity, or type of rear impact will require the Active Head Restraints (AHR) to deploy. If a rear impact requires deployment, both the driver and front passenger seat AHRs will be deployed.
When AHRs deploy during a rear impact, the front half of the head restraint extends forward to minimize the gap between the back of the occupant's head and the AHR.
This system is designed to help prevent or reduce the extent of injuries to the driver and front passenger in certain types of rear impacts.
NOTE: The Active Head Restraints (AHR) may or may not deploy in the event of a front or side impact.
However if during a front impact, a secondary rear impact occurs, the AHR may deploy based on the severity and type of the impact.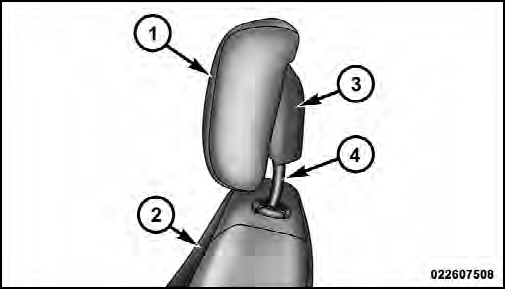 Active Head Restraint (AHR) Components
1 — Head Restraint Front Half (Soft Foam and Trim)
2 — Seatback
3 — Head Restraint Back Half (Decorative Plastic Rear Cover)
4 — Head Restraint Guide Tubes
CAUTION!
All occupants, including the driver, should not operate a vehicle or sit in a vehicle's seat until the head restraints are placed in their proper positions in order to minimize the risk of neck injury in the event of an accident.
NOTE: For more information on properly adjusting and positioning the head restraint, refer to "Adjusting Active Head Restraints" in "Understanding The Features Of Your Vehicle".
See also:
Interior
The Compass' unibody platform and respectable but less ambitious ground clearance make its floor lower and its cabin easier to enter than any of the other Jeeps'. The standard upholstery is a stai ...
Media Center 730N/430/430N (RHR/RER/RBZ/RHB) CD/DVD/HDD/NAV — If Equipped
NOTE: The sales code is located on the lower right side of the unit's faceplate. Refer to your Uconnect™ Multimedia RHR, RER, RBZ or RHB user's manual for detailed operating instructions. ...
Smooth, quiet ride
But most people won't get out into the wild with the Unlimited and they'll enjoy it just the same on the highway. Jeep added a few acoustic improvements to make the ride quieter, though those are ...