Automatic Dimming Mirror — If Equipped
This mirror automatically adjusts for headlight glare from vehicles behind you. You can turn the feature on or off by pressing the button at the base of the mirror.Alight in the button will illuminate to indicate when the dimming feature is activated. The mirror is twisted on the windshield button counterclockwise and requires no tools for mounting.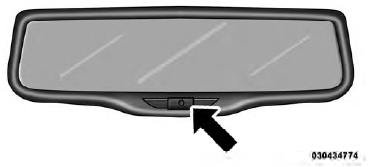 Automatic Dimming Mirror
CAUTION!
To avoid damage to the mirror during cleaning, never spray any cleaning solution directly onto the mirror.
Apply the solution onto a clean cloth and wipe the mirror clean.
See also:
TUNE Control
Turn the rotary TUNE/SCROLL control knob clockwise to increase or counterclockwise to decrease the frequency. ...
Automatic Headlights — If Equipped
This system automatically turns the headlights on or off according to the ambient light levels. To turn the system on, turn the end of the multifunction lever to the AUTO position (third detent). ...
Headlights And Parking Lights
Turn the end of the multifunction lever to the first detent for parking light operation. Turn the end of the lever to the second detent for headlight operation. Headlight Switch ...