Manual Front Seats Forward/Rearward Adjustment
Some models may be equipped with manual front driver or passenger seats. The seats can be adjusted forward or rearward by using a bar located by the front of the seat cushion, near the floor.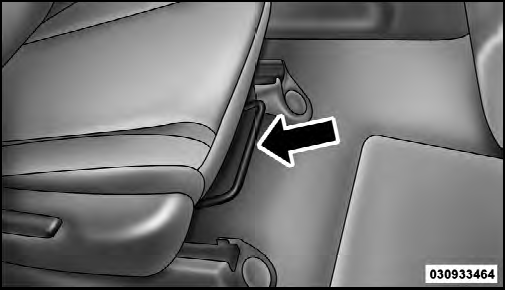 Adjustment Bar
While sitting in the seat, lift up on the bar located under the seat cushion and move the seat forward or rearward.
Release the bar once you have reached the desired position. Then, using body pressure, move forward and rearward on the seat to be sure that the seat adjusters have latched.
WARNING!
• Adjusting a seat while driving may be dangerous.
Moving a seat while driving could result in loss of control which could cause a collision and serious injury or death.
• Seats should be adjusted before fastening the seat belts and while the vehicle is parked. Serious injury or death could result from a poorly adjusted seat belt.
See also:
Introduction
Congratulations on selecting your new Chrysler Group LLC vehicle. Be assured that it represents precision workmanship, distinctive styling, and high quality - all essentials that are traditional ...
Wireless Ignition Node (WIN)
The Wireless Ignition Node (WIN) operates similar to an ignition switch. It has four operating positions, three of which are detented and one spring-loaded. The detented positions are OFF, ACC, ...
Language Selection
To change the language that the Uconnect™ Phone is using: • Press the button to begin. • After the "Ready" prompt and the following beep, say the name of the language you wish to switch ...