Front Passenger Seat Fold-Flat Feature — If Equipped
To fold the seatback to the flat load-floor position, lift the recline lever and push the seatback forward. To return to the seating position, raise the seatback and lock it into place.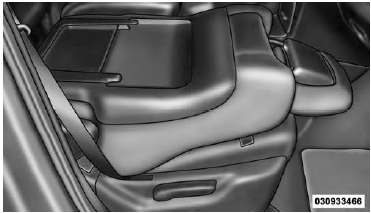 Fold-Flat Passenger Seat
See also:
Power Mirrors — If Equipped
The power mirror switch is located on the center of the instrument panel, below the climate controls. A rotary knob selects the left mirror, right mirror or off position. Power Mirror Switch A ...
Liftgate Flipper Glass
The liftgate flipper glass is also unlocked when the liftgate is unlocked. To open the flipper glass, push up on the window switch located on the liftgate. Liftgate Flipper Glass Release NOTE: ...
Trailer Tongue Weight (TW)
The trailer tongue weight is the downward force exerted on the hitch ball by the trailer. In most cases it should not be less than 10% or more than 15% of the trailer load. You must consider this ...