Intermittent Wiper System
Use one of the four intermittent wiper settings when weather conditions make a single wiping cycle, with a variable delay between cycles, desirable. At driving speeds above 10 mph (16 km/h), the delay can be regulated from a maximum of approximately 18 seconds between cycles (first detent), to a cycle every one second (fourth detent).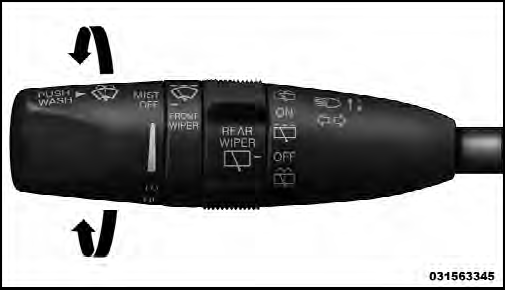 Intermittent Wiper Operation
NOTE: If the vehicle is moving less than 10 mph (16 km/h), delay times will be doubled.
See also:
Quick Steps To Raising The Soft Top
Refer to "Raising The Soft Top" in this section for further information. 1. Open the swing gate and raise the top, engaging the Sunrider latches (another person may be needed to help with this ...
Add Names to Your Uconnect™ Phonebook
NOTE: Adding names to the Uconnect™ Phonebook is recommended when the vehicle is not in motion. • Press the button to begin. • After the "Ready" prompt and the following beep, say "Ph ...
How To Use This Manual
Consult the Table of Contents to determine which section contains the information you desire. Since the specification of your vehicle depends on the items of equipment ordered, certain descriptio ...