Electronic Speed Control
When engaged, the Electronic Speed Control takes over accelerator operations at speeds greater than 20 mph (32 km/h).
The Electronic Speed Control buttons are located on the right side of the steering wheel.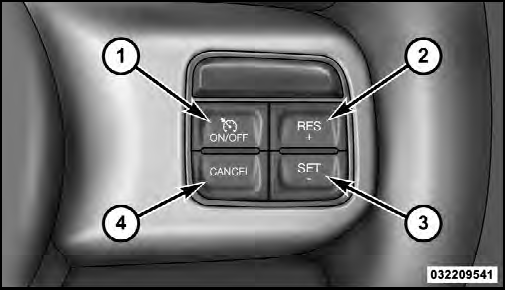 1 — ON/OFF
2 — RES +
3 — SET -
4 — CANCEL
NOTE: In order to ensure proper operation, the Electronic Speed Control System has been designed to shut down if multiple Speed Control functions are operated at the same time. If this occurs, the Electronic Speed Control System can be reactivated by pushing the Electronic Speed Control ON/OFF button and resetting the desired vehicle set speed.
See also:
Window Fogging
Windows will fog on the inside when the humidity inside the vehicle is high. This often occurs in mild or cool temperatures when it's rainy or humid. In most cases, turning the air conditionin ...
Roof Luggage Rack — If Equipped
NOTE: Roof rack and crossbars cannot be used on vehicles equipped with Skyslider . The load carried on the roof, when equipped with a luggage rack, must not exceed 150 lbs (68 kg), and it shoul ...
60/40 Split Folding Rear Seat With Fold-Flat Feature
To provide additional storage area, each rear seat can be folded flat. This allows for extended cargo space and still maintains some rear seating room. NOTE: Prior to folding the rear seat, it ma ...