Parksense Display
When the vehicle is in REVERSE, the warning display will turn ON indicating the system status.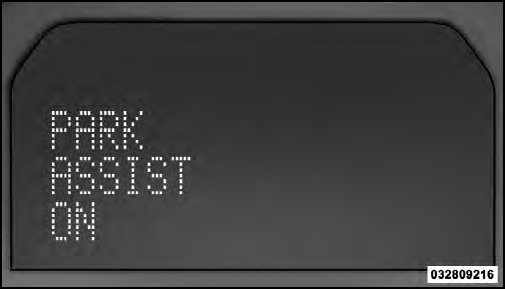 Park Assist System ON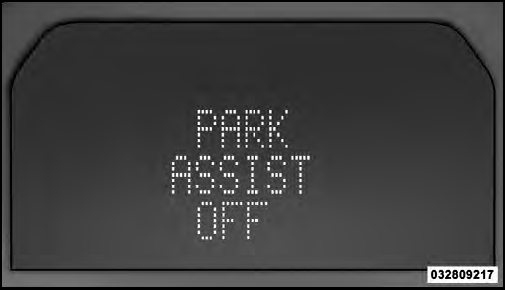 Park Assist System OFF
The system will indicate a detected obstacle by showing three solid arcs and will produce a one-half second tone.
As the vehicle moves closer to the object the EVIC display will show fewer arcs and the sound tone will change from slow, to fast, to continuous.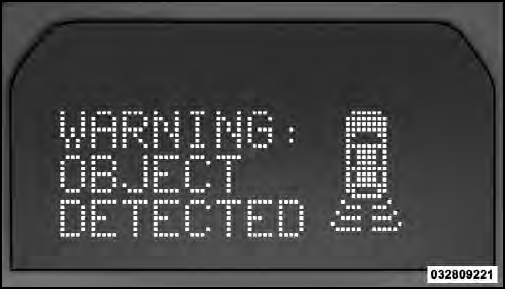 Slow Tone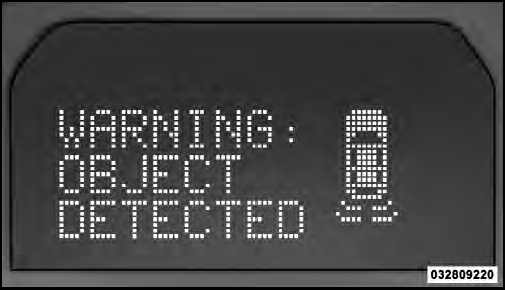 Fast Tone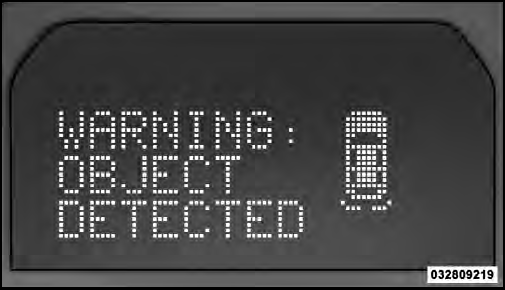 Continuous Tone
The vehicle is close to the obstacle when the EVIC display shows one flashing arc and sounds a continuous tone.
The following chart shows the warning alert operation when the system is detecting an obstacle:

NOTE: ParkSense will MUTE the radio, if on, when the system is sounding an audio tone.
See also:
Seat Belt Lock Out
The center rear seat belt system has a lock out feature that will not allow you to extract the center webbing unless the rear seat upper latch is engaged. ...
Outside Air Intake
Make sure the air intake, located directly in front of the windshield, is free of obstructions such as leaves. Leaves collected in the air intake may reduce airflow, and if they enter the plenum, ...
Headlamp Off Delay
When this feature is selected, the driver can choose to have the headlights remain on for 0, 30, 60, or 90 seconds when exiting the vehicle. To make your selection, press and release the SELECT bu ...