Rollover Warning
Utility vehicles have a significantly higher rollover rate than other types of vehicles. This vehicle has a higher ground clearance and a higher center of gravity than many passenger cars. It is capable of performing better in a wide variety of off-road applications. Driven in an unsafe manner, all vehicles can go out of control. Because of the higher center of gravity and the narrower track, if this vehicle is out of control it may roll over when some other vehicles may not.
Do not attempt sharp turns, abrupt maneuvers, or other unsafe driving actions that can cause loss of vehicle control. Failure to operate this vehicle safely may result in a collision, rollover of the vehicle, and severe or fatal injury. Drive carefully.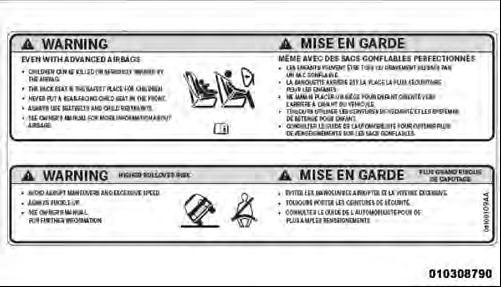 Rollover Warning Label
Failure to use the driver and passenger seat belts provided is a major cause of severe or fatal injury. In a rollover crash, an unbelted person is significantly more likely to die than a person wearing a seat belt. Always buckle up.
See also:
To Vary The Speed Setting
When the Electronic Speed Control is set, you can increase speed by pushing the RES (+) button. If the button is continually pressed, the set speed will continue to increase until the button is ...
Supported Medium Formats (File Systems)
The medium formats supported by the radio are ISO 9660 Level 1 and Level 2 and includes the Joliet extension. When reading discs recorded using formats other than ISO 9660 Level 1 and Level 2, th ...
Battery Saver Feature
To protect the battery, the interior lights will turn off automatically 10 minutes after the ignition switch is moved to the LOCK position. This will occur if the interior lights were switched o ...