Vehicle Identification Number
The Vehicle Identification Number (VIN) is found on the left front corner of the instrument panel pad, visible from outside of the vehicle through the windshield. This number also appears underbody, on the right side of the frame rail near the center of the vehicle, as well as on the Automobile Information Disclosure Label affixed to a window on your vehicle. Save this label for a convenient record of your vehicle identification number and optional equipment.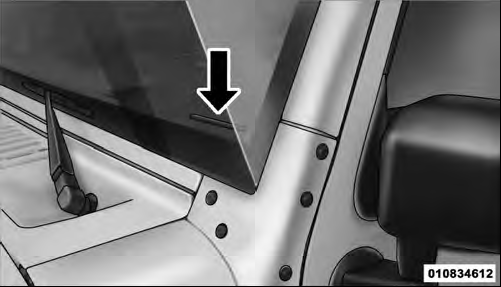 NOTE: It is illegal to remove or alter the VIN plate.
See also:
Reception Quality
Satellite reception may be interrupted due to one of the following reasons: • The vehicle is parked in an underground parking structure or under a physical obstacle. • Dense tree coverage may ...
Replacement Keys
NOTE: Only keys that are programmed to the vehicle electronics can be used to start and operate the vehicle. Once a Sentry Key is programmed to a vehicle, it cannot be programmed to any other veh ...
Engine Coolant Level
The coolant bottle provides a quick visual method for determining that the coolant level is adequate. With the engine idling, and warm to normal operating temperature, the level of the engine cool ...