Front Door Removal
WARNING!
Do not drive your vehicle on public roads with the doors removed as you will lose the protection that they can provide. This procedure is furnished for use during off-road operation only.
1. Roll down the glass window to prevent any damage.
2. Remove the hinge pin screws from the upper and lower outside hinges (using a #T50 Torx head driver).
NOTE: The hinge pin screws and nuts can be stowed in the rear cargo tray located under the rear loadfloor.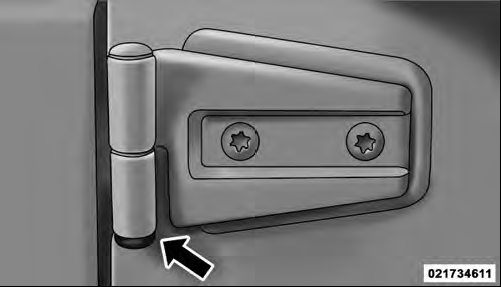 Hinge Pin Screw
3. Unplug the wiring harness connector under the instrument panel by pressing the tab at the side of the connector and pulling to disconnect.
NOTE: If the red latch on the connector is locked, push the red latch to the right until you can only see the latch on one end (right) of the connector. This will unlock the connector tab, allowing the tab to be pressed down and enabling the harness to be disconnected.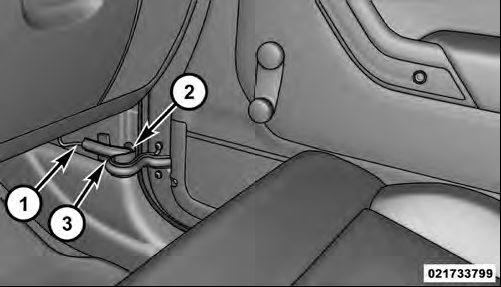 Door Strap/Harness Location
1 — Harness Connector
2 — Body Hook
3 — Door/Harness Strap
4. Unhook the door strap from the body hook. Be careful not to allow the door to swing fully open as the mirror may damage the paint.
5. With the door open, lift the door to clear the hinge pins from their hinges and remove the door.
NOTE: Doors are heavy; use caution when removing them.
To reinstall the door(s), perform the previous steps in the opposite order.
See also:
Rearming The System
If something triggers the alarm, and no action is taken to disarm it, the Vehicle Security Alarm will turn off the horn after three minutes, turn off all of the visual signals after 15 minutes, an ...
Manual Transmission – If Equipped
Apply the parking brake, place the shift lever in NEUTRAL, and press the clutch pedal before starting the vehicle. This vehicle is equipped with a clutch interlocking ignition system. It will not ...
Supported Medium Formats (File Systems)
The medium formats supported by the radio are ISO 9660 Level 1 and Level 2 and includes the Joliet extension. When reading discs recorded using formats other than ISO 9660 Level 1 and Level 2, th ...