Manual Door Locks
All doors are equipped with an interior rocker-type door lock lever. To lock a door when leaving your vehicle, press the rocker lever forward to the LOCK position and close the door. To UNLOCK the door press the rocker lever rearward.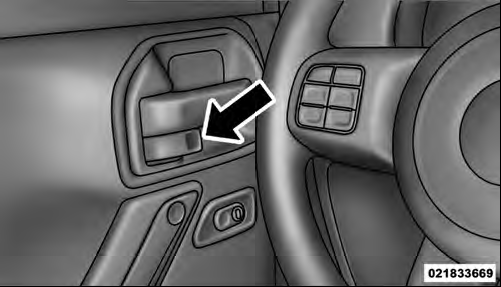 Manual Door Lock (Full Frame Doors)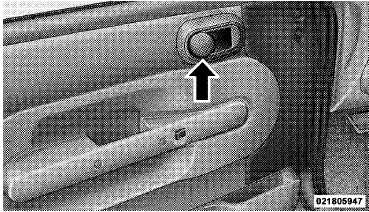 Manual Door Lock (Half Doors)
NOTE: The ignition key that is used to start the vehicle is used to lock or unlock the doors, swing gate, glove compartment, and console storage.
WARNING!
• For personal security reasons and safety in an accident, lock the vehicle doors when you drive, as well as when you park and leave the vehicle.
• When leaving the vehicle, always remove the key fob from the ignition and lock your vehicle.
• Never leave children alone in a vehicle, or with access to an unlocked vehicle.
• Allowing children to be in a vehicle unattended is dangerous for a number of reasons. A child or others could be seriously or fatally injured. Children should be warned not to touch the parking brake, brake pedal or the shift lever.
• Do not leave the key in or near the vehicle. A child could operate power windows, other controls, or move the vehicle.
See also:
Manual Seat Height Adjustment — If Equipped
The driver's seat height can be raised or lowered by using the ratcheting handle, located on the outboard side of the seat. Pull upward on the handle to raise the seat; push downward on the hand ...
Enhanced Accident Response System
In the event of an impact causing air bag deployment, if the communication network remains intact, and the power remains intact, depending on the nature of the event the ORC will determine whether ...
Disposal Of Used Engine Coolant
Used ethylene glycol based engine coolant (antifreeze) is a regulated substance requiring proper disposal. Check with your local authorities to determine the disposal rules for your community. T ...