Inside Day/Night Mirror
A two-point pivot system allows for horizontal and vertical adjustment of the mirror. The mirror should be adjusted to center on the view through the rear window.
Headlight glare can be reduced by moving the small control under the mirror to the night position (toward the rear of the vehicle). The mirror should be adjusted while set in the day position (toward the windshield).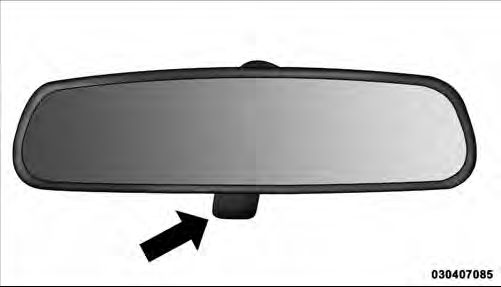 Adjusting Rearview Mirror
See also:
Power Steering Fluid Check
Checking the power steering fluid level at a defined service interval is not required. The fluid should only be checked if a leak is suspected, abnormal noises are apparent, and/or the system is n ...
Cleaning Plastic Instrument Cluster Lenses
The lenses in front of the instruments in this vehicle are molded in clear plastic. When cleaning the lenses, care must be taken to avoid scratching the plastic. 1. Clean with a wet, soft rag. A mi ...
Media Center 130 With Satellite Radio (Sales Code RES+RSC).
NOTE: The radio sales code is located on the lower right side of the radio faceplate. Media Center 130 (RES/RSC) ...