To Open And Close The Hood
Release both the hood latches.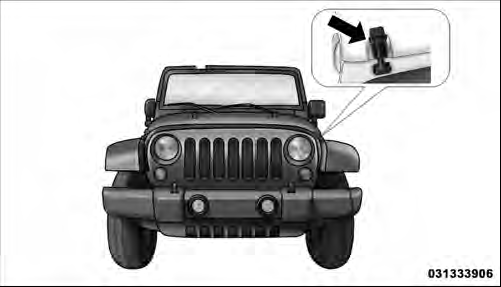 Hood Latch
Raise the hood and locate the safety latch, located in the middle of the hood opening. Push the latch to the left side of the vehicle, to open the hood. You may have to push down slightly on the hood before pushing the safety latch. Insert the support rod into the slot on the hood.
To close the hood, remove the support rod from the hood panel and place it in the retaining clip. Lower the hood slowly. Secure both of the hood latches.
WARNING!
Be sure the hood is fully latched before driving your vehicle. If the hood is not fully latched, it could open when the vehicle is in motion and block your vision.
Failure to follow this warning could result in serious injury or death.
See also:
Service The Parksense Rear Park Assist System
When the ParkSense Rear Park Assist System is malfunctioning, the instrument cluster will actuate a single chime, once per ignition cycle, and it will display the "SERVICE PARK ASSIST SYSTEM†...
List Button (Disc Mode For MP3/WMA Play)
Pressing the LIST button will bring up a list of all folders on the disc. Scrolling up or down the list is done by turning the TUNE/SCROLL control knob. Selecting a folder by pressing the TUNE/S ...
Tire Psi
Press and release the UP or DOWN button until 'ÄúTire PSI'ÄĚ displays highlighted in the EVIC and press the SELECT button. Press and release the UP/DOWN buttons until one of the following System ...