Intermittent Wiper System
Use the intermittent wiper when weather conditions make a single wiping cycle, with a variable pause between cycles, desirable. Rotate the end of the lever to the first detent position for one of five intermittent settings.
The delay cycle can be set anywhere between 1 to 18 seconds.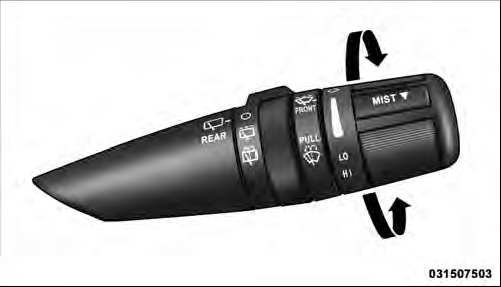 Front Wiper Control
NOTE: The wiper delay times depend on vehicle speed.
If the vehicle is moving less than 10 mph (16 km/h), delay times will be doubled.
See also:
Radial-Ply Tires
WARNING! Combining radial ply tires with other types of tires on your vehicle will cause your vehicle to handle poorly. The instability could cause a collision. Always use radial tires in sets ...
Paging
To learn how to page, refer to "Working with Automated Systems". Paging works properly except for pagers of certain companies, which time out a little too soon to work properly with the Ucon ...
Tires
Examine tires for excessive tread wear and uneven wear patterns. Check for stones, nails, glass, or other objects lodged in the tread or sidewall. Inspect the tread for cuts and cracks. Inspect ...