Rear Storage Compartment
The rear cargo area storage compartment cover is held by a spring-loaded latch. In order to remove the rear storage compartment cover, use the following procedure:
NOTE: The rear storage compartment latch should not be used as cargo tie-down.
1. Flip up the pull loop so it is perpendicular (straight up) to the top surface of the tray.
2. Pull up on the loop and twist it 90 degrees, so it is parallel to the slotted hole in the tray.
3. Open the rear compartment cover.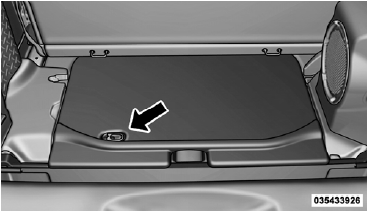 Rear Storage Cover
See also:
Interior Lights
The overhead light will turn on when a door is opened. It may also be turned on by rotating the control for the dimmer switch on the multifunction lever fully upward. The overhead light will auto ...
Energy Management Feature
This vehicle has a safety belt system with an energy management feature in the front seating positions to help further reduce the risk of injury in the event of a head-on accident. This safety ...
Compass Variance
Compass Variance is the difference between Magnetic North and Geographic North. To compensate for the differences, the variance should be set for the zone where the vehicle is driven, per the zone ...