Rear Storage Compartment
The rear cargo area storage compartment cover is held by a spring-loaded latch. In order to remove the rear storage compartment cover, use the following procedure:
NOTE: The rear storage compartment latch should not be used as cargo tie-down.
1. Flip up the pull loop so it is perpendicular (straight up) to the top surface of the tray.
2. Pull up on the loop and twist it 90 degrees, so it is parallel to the slotted hole in the tray.
3. Open the rear compartment cover.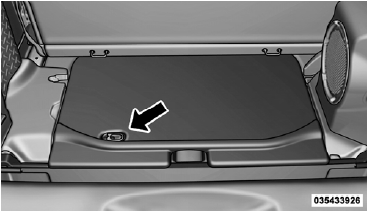 Rear Storage Cover
See also:
Power Disc Brakes
Disc brakes do not require adjustment; however, several hard stops during the break-in period are recommended to seat the linings and wear off any foreign material. ...
Recreational Towing – Quadra-Trac I (Single-Speed Transfer Case) Four-Wheel Drive Models
Recreational towing is not allowed. These models do not have a NEUTRAL (N) position in the transfer case. NOTE: This vehicle may be towed on a flatbed or vehicle trailer provided all four wheels ...
Nav–Turn By Turn
When this feature is selected, the navigation system utilizes voice commands, guiding through the drive route, mile by mile, turn-by-turn until the final destination is reached. To make your sel ...